Injury rules Essien out of Burkina clash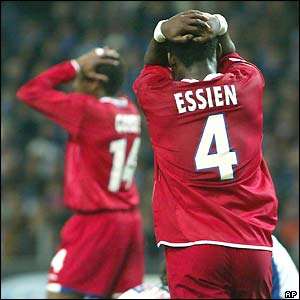 Black Stars midfielder Michael Essien will be absent from the Ghana squad that hosts Burkina Faso in Sunday's 2006 World Cup qualifier in Kumasi.
Essien, who helped Lyon to win the French title last month, arrived in Accra on Wednesday with an injured shoulder that prevented him from joining the rest of the squad.
The Black Stars' doctor Martin Engmann confirmed to BBC Sport that Essien had phoned to tell him about the injury.
"Michael told me that he has a shoulder injury that he called a 'partial dislocation of the shoulder' and he couldn't play against Burkina Faso," he said.
"He also told me he would be returning to France on Monday to get treatment on the injury with the aim of being fit for the qualifier in South Africa in two weeks time."
The French player's player of the year missed Ghana's 1-1 draw against the DR Congo through suspension.
Essien is the second injury problem that has hit Ratomir Dujkovic's squad after German-based midfielder Hans Adu Sarpei pulled out with a hamstring injury.
Despite the problems Dujkovic is confident Ghana can secure all three points on Sunday.
"I saw Burkina Faso play in a friendly in Lome and they are so good," he said.
"But as I always say Ghana has got quality and we can always win if the players understand what it means and are prepared to fight for it."
Ghana is currently third in Group Two, three points behind leaders South Africa and two adrift of second-placed Cape Verde.