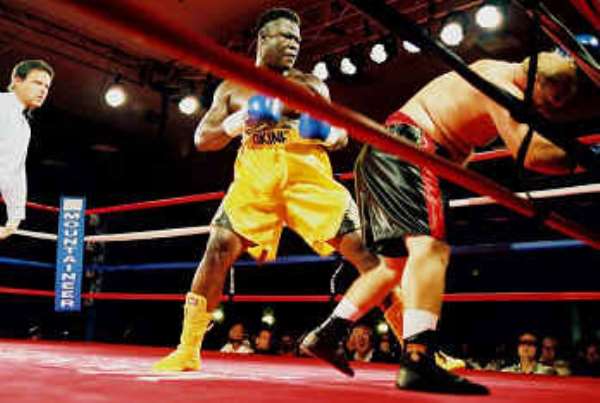 Former Linear Heavyweight Champion of the world Shannon Briggs returns to ESPN in his first televised fight in over two years.
Briggs (41-4-1, 35 KO's), Brownsville, Brooklyn will face Abraham "The African Assassin Okine" (14-0, 8KO's), of Ghana, at the Turning Stone Casino in Verona, NY on June 10th. The card will be televised between 8 and 10pm on ESPN2, Friday Night Fights, with Briggs v. Okine as the Main Event.
Briggs is best remembered for his November 22, 1997 12-round victory over boxing legend, George Foreman, as well as his memorable March 28, 1998 slugfest with Lennox Lewis. Briggs' skills have been showcased on nearly every major cable television network that airs boxing, including HBO, Showtime Network, ESPN, Madison Square Garden Network (MSG), and USA Network. His remarkable run that saw him win his first 25 professional contests garnered him coverage in leading sports and lifestyle publications, including Sports Illustrated, Vogue, and Vibe.
MTV, CNN, and FOX Sports Network have all featured the fighter as a guest. Briggs can be seen in the upcoming movie the Transporter II and has also appeared in the box office blockbuster Bad Boys II.