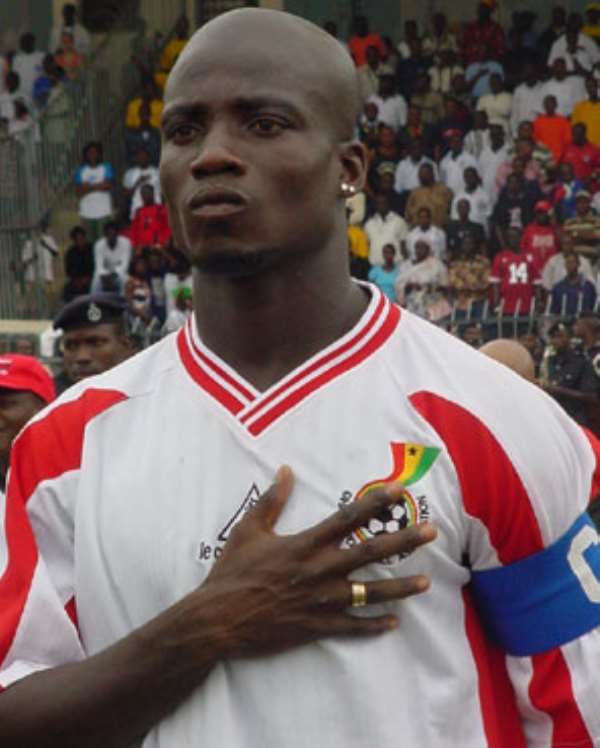 Black Stars skipper, Stephen Appiah is confident Ghana will beat her West African neighbors, Burkina Faso in this Sunday's Germany 2006 world cup qualifier.
Appiah arrived Tuesday night from his Italian base has already teamed up with the rest of his colleagues in camp this morning.
He told Joy sports that despite the late arrival of some of the foreign-based stars, the team is poised for success on Sunday.
'It is going to be a crucial game because they are confident of spoiling our home win. I have seen some games they have played and I remember we also lost 1-0 in Ouagadougou.
So evidently they have the confidence that they're coming here to beat us but I believe in our team and can say for a fact that we'll win. We only have to think positively we aren't here to lose.'
Appiah was quick to defend accusations of late arrival being leveled against himself and the rest of the foreign based players.
'I don't think its going to affect us but they have to understand that we play in Europe and most of us ended our seasons last Sunday so the earliest we can be in Ghana is on Tuesday.'
'I think everybody is in shape and I'm in constant touch with them so I don't think the seeming late arrival is going to affect us.' Appiah told Joy sports.
Ghana lies third in group B of Africa's qualifying campaign, three points behind leaders South Africa, while their opponents for Sundays' tie Burkina Faso are second from bottom on six points.
Only the group winner qualifies for the FIFA World Cup in Germany next year.