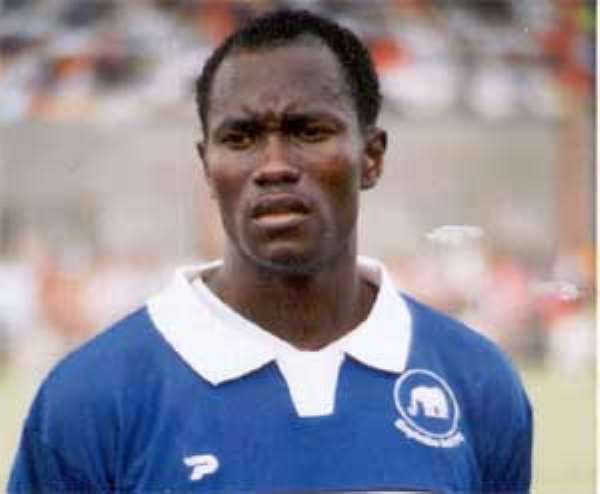 ..Coach worried about late arrival of foreign stars Fifteen Black Stars players, comprising six foreign based and nine locals leave Obuasi, for Kumasi today, for a final brush up for Sunday's World Cup qualifier against Burkina Faso after a week's training session at the Len Clay Stadium.
The foreign based players are Yakubu Abubakar, Matthew Amoah, Godwin Attram, Jeotex Frimpong(pictured), Kofi Amponsah and Daniel Edusei.
During a visit to the Len Clay Stadium by the Graphic yesterday, it was realised that the players were in high sprits as they declared their determination to beat the Burkinabes on Sunday.
The Stars coach, Dujkovic Ratomier said Obuasi has almost all the needed facilities for a team to train with and therefore commended Ashantigold S.C. for their support to the Black Stars and also placing at their disposal the club's physiotherapist and gym.
Though they would not predict the score-line for Sunday's match, Dujkovic smiled and said: "We will smile". The Stars who were expecting the full complement today of the team will play Asante Kotoko in a final warm up match in Kumasi tomorrow. Dujkovic broods over foreign stars late arrival Black Stars coach Ratomir Dujkovic has expressed fears that the team's preparation may not suffice for the Burkina Faso battle on Sunday.
Dujkovic watched the Stallions lose 1-0 to Togo in a friendly warmer and believes they will be tough customers for Ghana.
Though he remains positive a win is still high on the cards, the Serbian is unhappy with the delayed arrival of his foreign-based players.
He is wary that they may come in worn out from their exploits in Europe.
'I am not happy that I cannot have at least a full week's training session with the team. The Burkinabes have been in camp since last Saturday and they look a very physical side.'
'I reckon they would attempt to cause us a lot of problems with their size.'
'Any coach would have wished to have a longer training session with the players, but at this moment in time I have to make do with what is available.'
'I am confident nonetheless that we shall triumph' Dujkovic added.
The latest arrivals to the team include team captain Stephen Appiah Kwadwo Poku and Addoquaye Pappoe.
The Black Stars will move camp to Kumasi today for the final brush up for the Stallions duel.
They will play against Kumasi Asante Kotoko at the Kumasi Sports stadium on Thursday.
Meanwhile Dujkovic has heaped lavish praise on Enyimba striker Joetex Frimpong.
Dujkovic told Joy sports that after observing the player at training for the past few days he is confident that he can add a new dimension to the Black Stars' attacking line-up.
Though Dujkovic insists it is too early to say whether Joetex will start against the Burkina Faso on Sunday, he didn't rule out the probability of that happening.
The Serbian trainer says his major worry at the moment is the lack of playing time his central defender Augustine Amponsah has had in the past month.