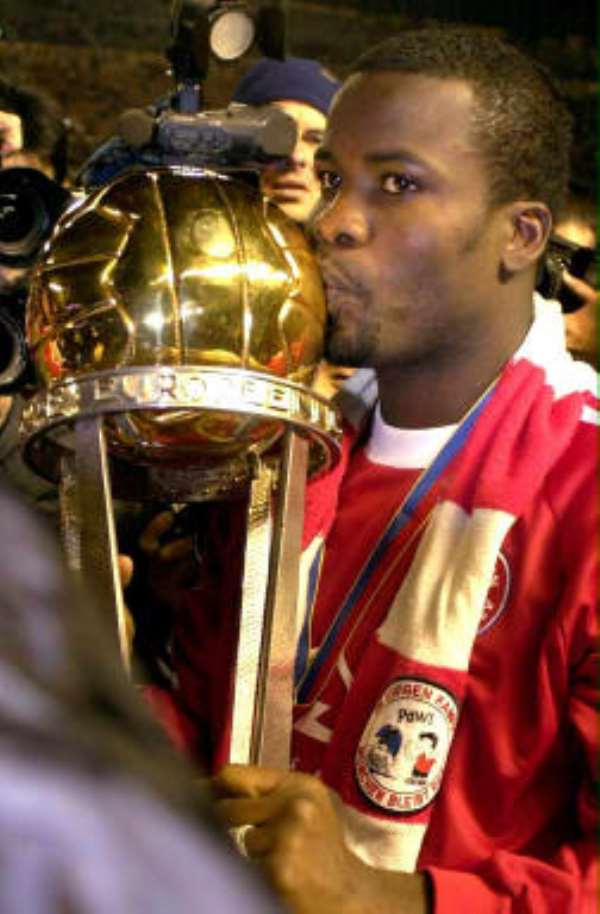 Bayern Munich chairman, Karl-Heinz Rummenigge has paid glowing tribute to Ghanaian international Samuel Osei Kuffour at an end of season party in Munich.
A star-studded guest list including Karl-Heinz Rummenigge, Uli Hoeneß, Franz Beckenbauer, and all the team's top brass joined sponsors, the team and staff for the traditional celebration banquet following Bayern's completion of a fifth domestic double.
A party atmosphere prevailed at lead sponsor Deutsche Telekom's Berlin headquarters as the championship shield and German Cup did the rounds.
However, there was a melancholy note to the proceedings after chairman Karl-Heinz Rummenigge stood up to deliver his customary post-match address.
Rummenigge was naturally delighted at the highly successful end to the season: "You don't win the double every season," he smiled.
However, the chairman was at pains to bid a worthy farewell to the five players currently known to be leaving the club this summer.
Rummenigge said of Kuffour; 'Sammy Kuffour, you won the Champions League with us in 2001, and I can personally remember how you delivered what was probably the best performance a player has ever given - at the post-match party in Milan. You're a fabulous character! I don't know your plans for the future. We'd like you to have stayed, but perhaps you'll be back at Bayern sometime in the future.'
The other four heading towards the Munich exit door include, Alexander zickler, Vahid Hashemian, Thomas Linke, and Robert Kovac.