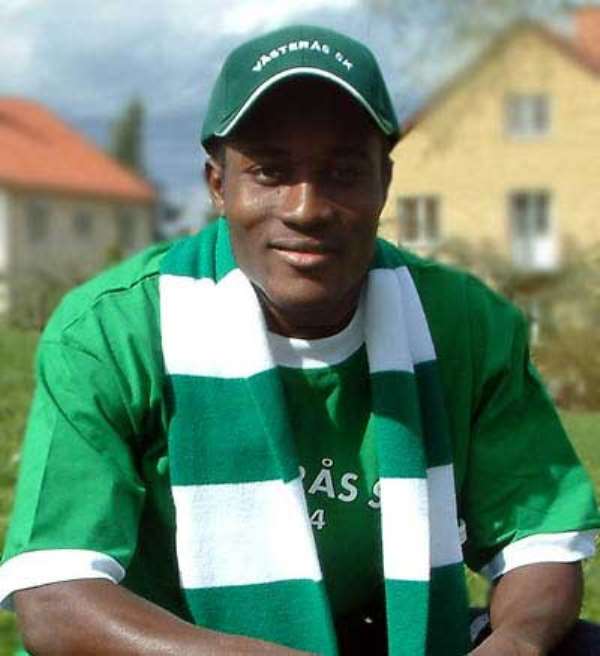 Former Black Starlets Ibrahim Attiku is cherishing his return European football after five years of despondency since winning the hearts of many at the 1999 under 17 World Cup in New Zealand.
The 23 year old has reinvented the magic of 1999 at his Swedish first division club Assyriska since joining them from the second division team Friska Viljor in January.
Having started in all eight matches this season, Attiku grabbed his first goal yesterday in their 1-0 victory over Sundvall which lifted them two spots from the bottom of the table in Sweden's top league.
"I am very happy with the way my play has improved since I came to Sweden. This comes to bolster my frame of mind and to keep on improving to achieve the ultimate."
His hopes of playing top European football soon after the 1999 under World Cup were dashed by new immigration rules on the recruitment of young players from developing world by some European countries.
In England he was turned down along with his friend Michael Essien of Lyon,
the current France Footballer of the Year who was also a member of Ghana's 1999 under-17 team.
But luck shone at Essien at Bastia in France where they continued their quest for a team in Europe.
Attiku continued in Germany with Borussia Dortmund but he was not successful so he returned to Ghana to continue Liberty Professional hoping that his appearance at the under 20 World Cup could help him reach achieve his dream of playing in Europe. But that was also not to be as he was dropped from the squad.
"I was very disappointed because I was not part of the team. I wanted to represent my country and also get the opportunity to show the world my talent once again," he said.
" But that disappointment strengthened my resolve to continue to fight on the pitch and achieve my dream of playing in Europe."
It was at Liberty Professional where he had his break with a 3-month loan deal with Hapoel Pektah Tikvah in Israel in 2002.
He returned to his Ghanaian team at the end of the deal before securing a move to the Swedish second division.
"I played very well with Friska Viljor that is why Assyriska contacted my agents for my signature."
"At Assyriska things have been good even though we have to fight to remain in the top league."
Attiku is happy with the achievement of his friend Michael Essien who is one of the best midfielders in the world today but is not surprised.
"I had not doubt in my mind that Essien would attain great things in football because he is gifted and always serious about the game. I am very happy that he has turned out to be a great footballer, Attiku added.
"He calls me to encourage me and I also give him the necessary support. I want to emulate him and I know this comes through hard work.
"Already I have had teams contacting Assyriska about me but I am concentrated on my team at the moment but for sure I will love to play in one of the top teams in Europe."
Realising that ambition would truly be another achievement in the history of this soft spoken footballer.