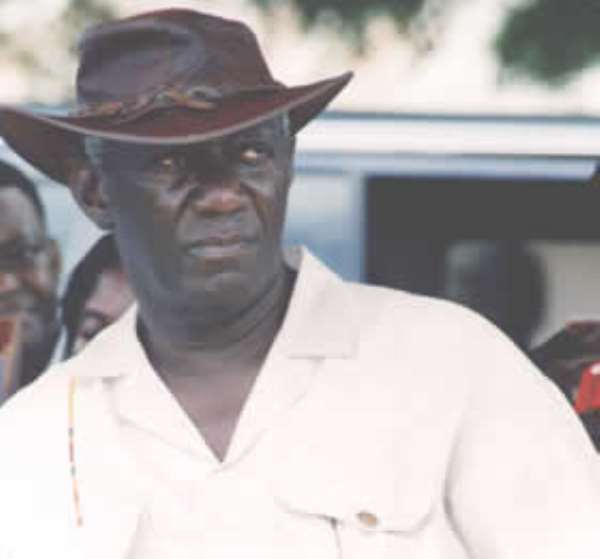 ... I am not a coup maker... No Mistake in 5 years - JAKAccra, May 26 (Chronicle/JFM) -- President John Agyekum Kufuor has described as coming out of sour grapes, any claims that he had retained his presidency through rigging in the last election. Kufuor also said he has not made any mistakes in his five-year term as head of state Mr. Kufuor who described some of the African leaders who do not respect their constitution as coup makers, said, "I respect the constitution, I am not a coup maker, I have never been a coup maker, I try to live within the law, if I do not like the law, I try to change the law from within. Anybody who wants to shift constitutional goal post unconstitutionally is a coup maker." Speaking in an interview with the VOA's Shaka Ssali in a television interview yesterday evening, he said, "They were in power when I trounced them and removed them from power through the ballot to come to power. Are they telling me even out of power, I rigged to remove the government that seems so strong, into coming here? Is that the question," he asked rhetorically. Obviously peeved at the allegation, he demanded, "On what basis?... Because I do not want to talk in vain… supposed that they are making a statement which I should react to, then I would react looking them in the eye. But if we are going on the basis of what you have just said, then, I would tell them that they first came in here through the back door illegitimately. I have been taken here through the front door on the ballot box by the will of the people. So on this basis; they have no business questioning the decision of the people." Mr. Kufuor, who was responding to a wide range of issues including his vision for the nation, perception of his administration and the current spate of democracy, stated that the most significant decision taken by his administration was opting for the HIPC initiative. He said, the benefits were channeled into the improvement of infrastructure, good governance, and private sector development, among others. On the University teachers' strike, he said, he was aware of the strike and believed the Ministry of Education was taking steps to rectify the situation. On corruption, he accused his predecessors of waging propaganda against his administration whereas they were the most corrupt. He said but for the weakness of the Attorney General's office, many of them would have been behind bars. No mistakes in 5 years—Kufuor (Joy Online) -- President Kufuor says he has not made any mistakes in his five-year term as head of state. Speaking in an interview with the Voice of America, VOA President Kufuor says he's been right in every decision he's taken and that all his decisions have been in the best interest of the country.
"Some of the decisions have been very hard but we find them as necessary evils like now, we are deregulating the petroleum sector. To be able to do this we needed to increase petroleum prices by as much as 50 per cent, its no joke, it threw the economy into some inflation over the past two months, we have had to operate tight budgetary measures to contain the inflation," he says. President Kufuor says though such decisions were tough government had no choice. " It's not easy on the people and I feel pain but as I said it is a necessary evil," he says. He says Ghana has recently discovered gas in commercial quantities in the west of the country and it will soon sign some agreements on the deal. President Kufuor called on Ghanaians to be patient in their expectations of the government and stop complaining about corruption unnecessarily. " I have tried very hard and achieved quite a bit, I assure you the premise of this country is big but we need to exercise patience and be tolerant. I assure you within the next few years our country Ghana will bounce back into glory and prosperity," he says. He says the NPP administration is pursuing prosperity and peace and without these qualities the country's young democracy will be endangered.
" We should all insist on allowing our Constitution to work and we should cooperate in the interest of the nation," he says.
" Talk of so much corruption and finding so much fault with ourselves may give way to some evil that will come to obliterate all the good we are achieving in the eyes of the entire international community," he says.
He urged Ghanaians to be hopeful and allow the laws of the land to work.
" We must remain democratic. 2008 is not too far, if by then Kufuor and his government proved that they are worthy government to be followed, the choice will be yours, but I know that by then Kufuor and his government have been the best servants of our country," he says.
President Kufuor, speaking on the VOA's "Straight Talk Africa" programme.
The interview also touched on various issues including the political situation in Africa and President Kufuor's chairmanship of ECOWAS.