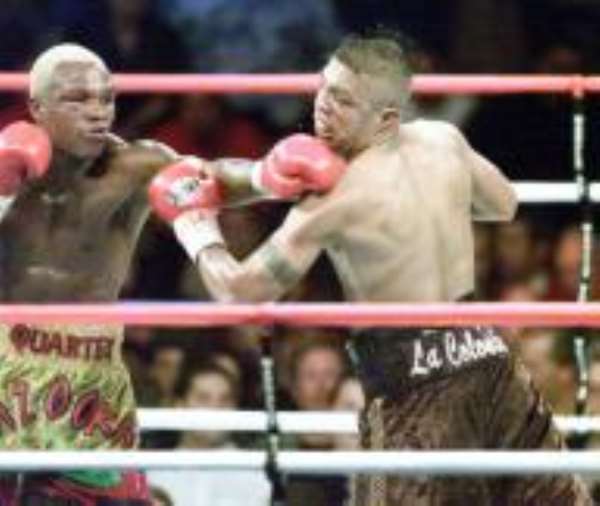 In three weeks six Ghanaian boxers will mount the ring in USA with the aim of lifting high the flag of Ghana,hoping to revive Ghana boxing from its dwindling fortunes.
High on the agenda will be the Ike "Bazooka' Quartey and world ranked 6th Verno Phillips of USA in a 10 round middleweight contest on June 18 at the FedEx Forum,Memphis,TN,USA.
This will be the 2nd fight of the "Bazooka comeback".
Ben 'Wonder" Tackie after the defeat to Tsyu and Ricky Hatton has won just one fight and would hope to redeem his image and that of Ghana this weekend as he faces Puerto Rican Edwin Algarin Perez at the Club Cinema,Pompano Beach,FL,USA on Friday may 27,2005.
Tackie goes in to this fight with a record of 25-5-0.
Raymond Narh and Abraham Okine will both be on the same bill on June 10,2005 at the Turning Stone Casino,Verona,NY,USA.
Whiles 'Emperor' Narh battles it out with American Darnell Logan for the NABC title defence,Abraham "The African Assassin"(14-0) will want to defeat Shannon Briggs of USA in a heavyweight championship.
On June 11,2005 in Washington DC, Joshua Clottey will fight in an under-card for the Tyson fight at the MCI Center.
Joshua "Satan" Okine must win his WBA Light welterweight contest against Sharmber Mitchell of the USA.