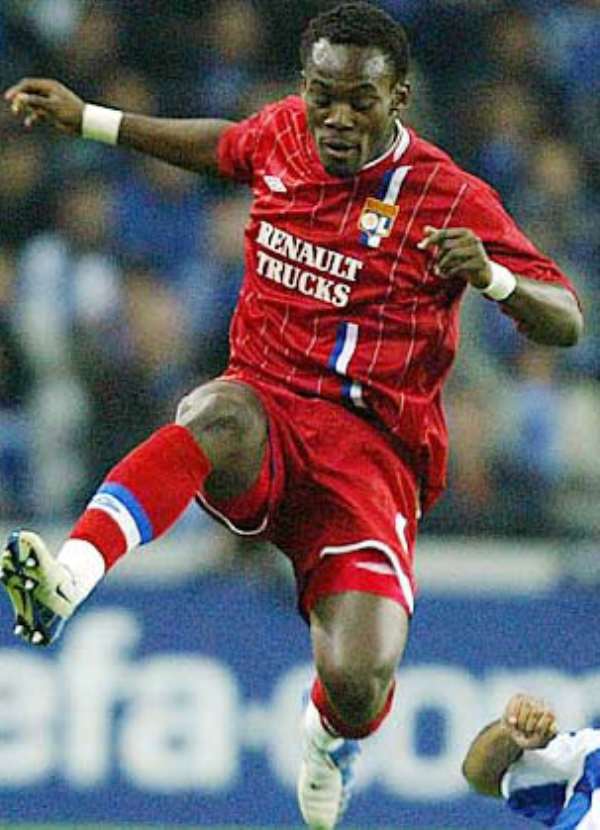 Black Stars and Olympique Lyonnais midfield player Michael Essien has been named the French Professional Players' Union Player of the Year. The 22-year-old Ghanaian enjoyed an outstanding season, missing just one Ligue 1 match as Olympique Lyonnais cruised to a fourth consecutive title. He was ever-present in the side's impressive UEFA Champions League run, before their penalty shoot-out exit at the hands of PSV Eindhoven in the quarter-finals. Essien's durable central-midfield partnership with Mahamadou Diarra has been at the heart of Lyon's success but he also contributed five Champions League goals - more than any of his team-mates. "I feel very proud to have claimed this trophy," former SC Bastia player Essien said, "especially because it comes from players themselves. I thank those who voted for me.
Michael "The Bull" Essien who has become one of the most wanted in europe was last year voted the best midfielder and best foreign player in the french league.
"The Bull' has won the french league title twice with Lyonais and is a regular feature in the Black Stars world cup qualifying dream.
At age 22,Essien has already seen it all at the world u-17,u-20 and the Champions league but yet to tast the world cup.
The midfield gem is expected in Ghana on May 29 to prepare for the lstars game against B-faso in kumasi.