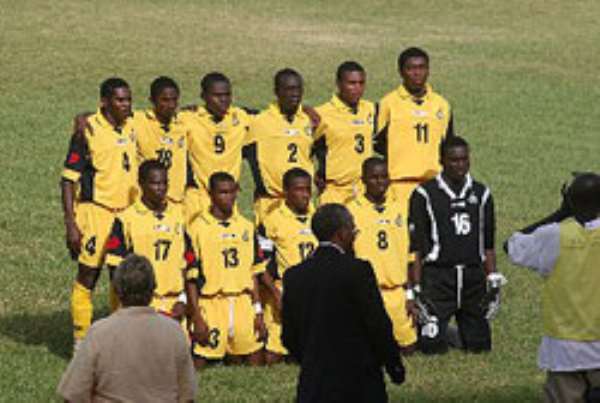 Gambia 2005 Finals: Ghana-Gambia Place: Bakau Stadium Time: 17:00 CET Referee: Phomane Paul(Lesotho),Ayoub Mohammed(Morroco),Konyoh Komi(Togo) History will be made on Sunday when Hosts Gambia confront two-time champions Ghana in the final match of the 6th African Junior Championship slated for the Independence Stadium in Bakau. Both teams have already booked their passage to the world championship in Peru later in the year. But The Gambians are hoping to go one better by claiming their first victory in the competition, while Ghana pursue a record third African U-17 title. To reach this stage of the competition, Gambia defeated South Africa 2-1 in the semi-finals while Ghana sent Cote d'Ivoire packing in extra time. The final is an exciting climax to a fortnight of sheer soccer artistry by the continent's youths, and the West African match-up promises explosive action from beginning to end. Ghana coach, David Duncan was upbeat about his team's chances of claiming the final glory when he said in a post semi-final comment that he was looking forward to winning the trophy, and judging by the way the Starlets dispatched Cote d'Ivoire in the semis, the sign favors another Ghanaian celebration.
Significantly too, Ghana already enjoy a psychological advantage having defeated The Gambia 1-0 during the group phase.
But the Gambians, who are coached by the Ghanaian Fred Osam-Duodu are assured of yet another massive crowd support, and with the royal presence of their soccer loving President Yahya Jammeh to spur them on, the baby Scorpions cannot afford to fail.
Big marksman Momodu Ceesay leads a goal hungry attack that has so far notched six goals in the campaign, but it would be interesting to see how they dismantle the Ghanaian defence this time, having failed to breach it during the group stages.
Their biggest fear could be Ghanaian arrowhead and tournament leading scorer Opoku Agyemang, a brilliant player who creates and scores goals with relative ease.
Arguably the most attended U-17 championship since the inception of the biennial tournament a decade ago, Gambia 2005 has seen a burst of goals and a revelation of fresh African talent, and Sunday's final game will be a spectacle not to be missed.