GBA Re-Appoints Naa Darkua Dodoo As PRO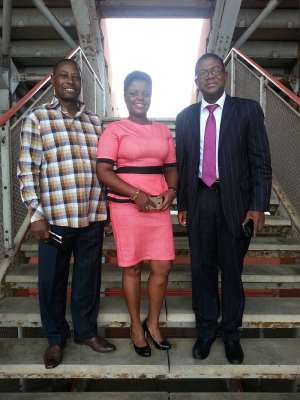 The Ghana Boxing Authority (GBA) on Tuesday held its first inaugural meeting after its recent congress and elections in Accra.
Peter Zwennes, President of the GBA commended and congratulated the new board members and announced the appointment of Dr. Quaye to head the Medical Commission of the board and Naa Darkua Dodoo as the Public Relations Officer.
The President noted that soon the Technical Director will be named.
Naa Darkua Dodoo told Yours Truly, she was delighted by her re appointment and never regretted working in the boxing fraternity for the past eight years, starting with Amateur and joining the Professional body.
She commended the gallant members of the GBA executive board who have in diverse ways encouraged and guided her to execute her duties with the media.
As the only lady in the top ranks of Ghana Boxing, she felt excited to be working with popular boxing champions, promoters, managers, coaches and fans from different walks of life.
Naa Darkua promised to work harder in the next four years and urged the sports media to support her to make Ghana Boxing' image better on the international scene.
Henry Manly-Spain, a popular boxing promoter is the new 1st Vice-President of the Ghana Boxing Authority after beating former 2nd Vice-President, Rabbon Dodoo who has been coopted onto the new board together with Cape Coast based Isaac Kweku Grantson.
Former Greater Accra Regional chairman, Lord Isaac Acquaye, Alhaji Zaid Mashud, Alhaji Murtala Tofiq and coach Lawrence Carl Lokko are executive members.
Incumbent president, Peter Zwennes was retained unopposed, same as Abraham Neequaye who faced no competition to become the new 2nd Vice-President.
Experienced referee/judge, Fred Ghartey was also retained unopposed as treasurer.
"We will raise boxing to a high level that it will compete with football for all to know that football is not the only sport, but boxing can be even bigger," said Henry Manly-Spain.