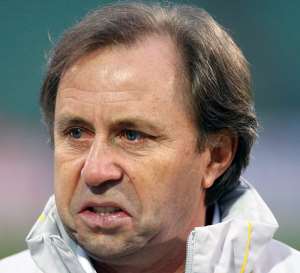 Thailand and the UAE square off in a World Cup qualifier at 7pm with the home team anxious to make amends for their 3-1 loss in their earlier meeting in Group B of Asia's final qualifying round for Russia 2018.
It will be Rajevac's first competitive match in charge of the War Elephants after he began his Thailand stint with a 2-0 friendly loss to Uzbekistan last week.
Addressing a press conference yesterday, Rajevac said: 'We have prepared the team very well for the match.
'If we beat the UAE, it would be a historic feat for the Thai national team as they are one of the top Asian teams.
'Our players are all thirsty to play with the UAE and we are hoping for a good result in this match.'
Rajevac added: 'For the warm-up game with Uzbekistan, we did not have several Muang Thong players with us and later some of them pulled out of the national team because of injuries.
'We have called up some new players so this team is a mixture of old hands and newcomers. It is a normal situation for the main players to have injuries and this gives new players the chance to play.'
Rajevac also ruled out a start for prolific striker Teerasil Dangda tonight, saying: 'He is still a part of our 23-member squad and his presence is a big motivating factor for all players. However, I have a doctor's report which advises a week's rest for Teerasil.'
The veteran Serb, who has coached teams in Africa, China and Qatar, knows a great deal about Asian football and will be keeping a wary eye on UAE playmaker Omar Abdul Rahman.
'Omar is the No.1 playmaker in Asia at the moment,' said Rajevac. 'It is very difficult to stop him because he is very skilful.
'We have seen many tapes of the UAE's matches and it will be important for us to both attack and defend as a team. The result would depend on our team.'
Thailand's new captain, goalkeeper Kawin Thamsatchanan, said: 'Although this game won't help our team qualify for the finals, we want to prove that we are better than before.'
UAE coach Edgardo Bauza from Argentina said: 'This will be my first game with the UAE team and I am not worried. Our chances of qualifying for the World Cup finals are quite slim, but we are hungry to win this game.
'We beat Laos 4-0 in a recent friendly which improved relationship between our players and coaching staff. Thailand are No.1 in the Asean region. We selected Laos for the friendly so that we can fine tune our tactics.
'It will be a difficult game for us as our players are always under pressure. I am trying to make them feel confident, telling them that we have come here not just to get a draw or to lose. We are here to win the match.'
The UAE are currently ranked fourth in Group B with nine points with Japan, Saudi Arabia and Australia each having 16 points.
Thailand are at the bottom and out of contention for a World Cup berth with a single point from seven games.
The top two teams of Group A and B earn tickets to Russia 2018. The two third-place teams meet in a play-off with the winners facing a Concacaf side for another spot.