Ticket Prices For Mayweather's "Undefeated Tour" Out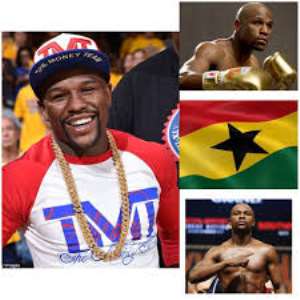 Undefeated American boxer Floyd Mayweather Jr. is set to storm Ghana on a two-day visit from the 15th to the 16th of June, 2017.
Activities for the historic visit of the pugilist who retired undefeated have been announce coupled with the ticket rates that will be charged for the various events that will be held including a boxing fight night.
Below is the list of ticket prices for the events:
A VVIP Table for ten guests at the Dinner Night costs USD $9,000 and a VIP Table for ten guests at the Dinner Night costs USD $5,000.
For the Club Night, a VVIP ticket is USD $10,000 for a table of six patrons. The VIP table for four patrons is USD $5,000, while the Regular table for One Person is GHC 500.
For the Boxing Bout at the Bukom Arena, the VVIP for eight guests is GHC 8,000, VIP ticket for a single person is GHC 300 and the Regular Ticket is GHC 100.
Special media accreditation would be awarded to media organisations that apply through BabyJet Promotions, as the EIB Group and Multi Media have also been allocated some accreditation as Media Partners.
The Bukom Boxing Arena has a capacity of 4,000 and the Promoters, BabyJet in collaboration with Victor Ahiakpor's Lion Boxing Promotions as well as Landmark Promotions own by Papa Kermah want to make the night a memorable one and they have urged Ghanaian boxing fans to save and try to make it happen.
Sammy Anim Addo of BabyJet Promotions said the visit of the world's best boxer to Ghana should be an inspiration to all boxing fans especially promoters, trainers, enthusiasts, boxers and everyone who loves sports and appreciates champions.
Roni Yeboah, CEO of Upscale Entertainment who are behind the "Undefeated Tour" hinted that the visit is going to draw the focus of the world media to Ghana as very popular and prominent international media outfits are following the Tour.
She noted that Ghana Tourism, Arts, Entertainment and Business must take a different shape after the Tour because the nation would be known better and more opportunities are going to flow into the country the Floyd Mayweather termed as "The Motherland".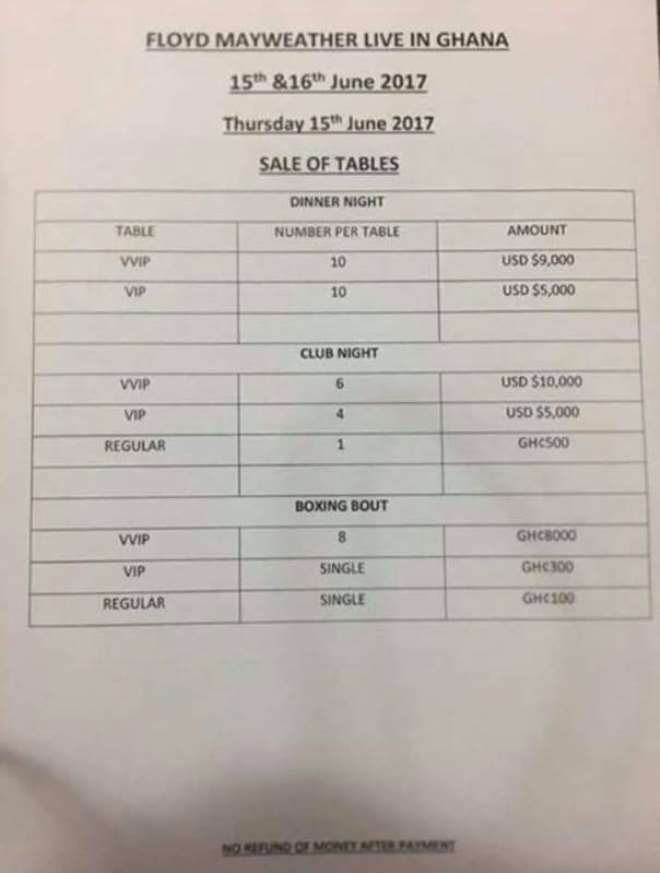 May Pricelist