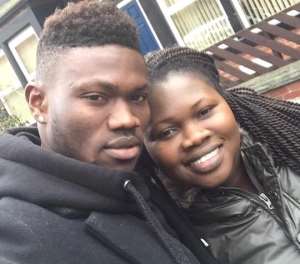 Sister of incarcerated Sweden-based Ghanaian footballer Kwame Bonsu says his brother is innocent.
The Gefle was on Friday sentenced to two years in prison by the district court in Gavle for allegedly raping and physically assaulting his Swedish wife.
Bonsu, 22, is to pay $28,000 to the woman as compensation and he will be deported back to Ghana never to return to the Scandinavian country after serving his jail term.
But Nana Yaa Boatemaa Bonsu says his Kwame is being wrongly accused by his ex-wife who has trumped up liars.
''My brother is not a rapist nor a bully, he cannot even hurt a fly how much more a human being. Is a false accusation from his ex wife,'' Boatemaa said.
''She cheated on my brother and he found out and decided to divorce her and out of jealousy she is doing that to him. But our God reigns and he will surely let the truth prevail.
''People should not say what they do not know please, Kwame is not a bad person and those who know him can testify.''