Andre Ayew targets opening Africa Cup of Nations qualifying with a win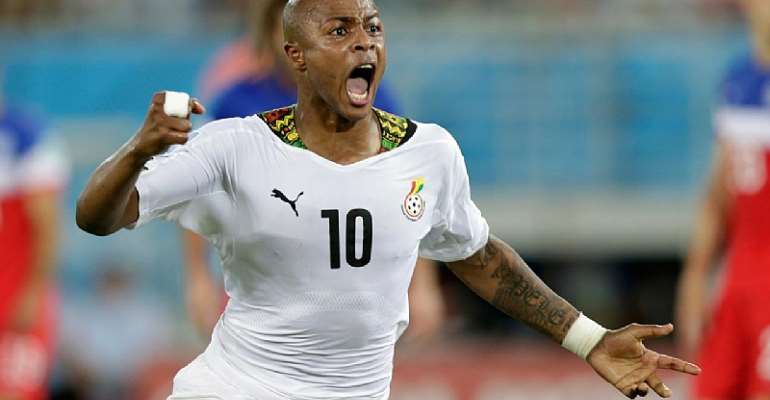 Andre Ayew wants to take his late-season form for West Ham United into Ghana's opening 2019 Africa Cup of Nations qualifier this weekend.
The Black Stars forward ended 2016/17 with five goals and three assists in the Hammers' closing 13 Premier League fixtures, including the winner in the final-day victory at Burnley. Now, the vastly-experienced 27-year-old, wants to add to his 14 international goals when Ghana take on Ethiopia in their Group F tie in Kumasi on Sunday afternoon.
Ghana finished fourth in the 2017 tournament, which was held in Gabon earlier this year, with Ayew scoring two goals, but the No20 wants to do even better at the 2019 finals in Cameroon. Ghana will also face Kenya and Sierra Leone in their qualifying group.
Having started their 2018 FIFA World Cup qualifying campaign with a draw with Uganda and defeat in Egypt, Ayew wants Ghana to return to winning ways as they seek qualification for their continent's own major tournament.
"We cant sit here and say we want to qualify for the Africa Cup of Nations if we don't qualify for it," Ayew said
'It will be very important to start the 2019 Africa Cup of Nations campaign on a winning note,' he confirmed. 'We have a goal which is qualifying for the 2019 AFCON and we must start by getting good results here and we know the bad results we had against Uganda made our World Cup campaign a difficult one.
'That is not yet over, but we have put that on the sideline now and think about the Africa Cup of Nations. Now thinking about the game against Ethiopia where we want all three points and we're going to work towards that.
'We can't sit here and say we want to win the Africa Cup of Nations if we have not qualified, so we need to do our job and qualify. It's going to be very tough and very difficult, but Ghana is a team which has to win trophies.
'Now until then is a long time, so we don't want to predict anything, but that's the goal we are working towards, going to Cameroon and doing something great. But before that, we have to pass Kenya, Ethopia and Sierra Leone, so we have a lot of games.'
For more Ghana football news visit www.ghanasoccernet.com