Racism row: Muntari claims GFA didn't solidarise with him – federation refutes player's claim
Sports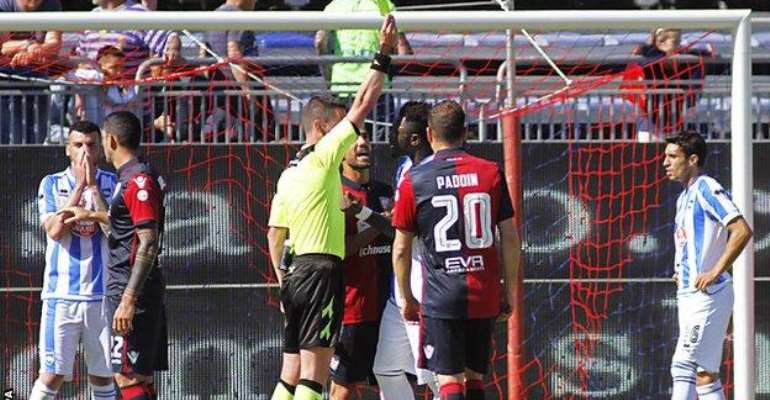 Sulley Muntari claims the Ghana Football Association (GFA) did not call to solidarise with him after being racially abused by fans during a Seria A clash with Cagliari but the federation has refuted the midfielder's claims.
The 32-year-old was targeted by a section of the home fans throughout the match before reporting the situation to the referee and asking that he halt the game.
However, he was booked by the referee for making the request and subsequently walked off the pitch in stoppage time, leaving Pescara to see out the match with just 10 men.
Narrating the incident Wednesday on Starr Chat with Bola Ray, Muntari said the racist chant began with a kid.
When asked whether the GFA contacted him to commiserate with him in show of solidarity, he said: 'No they didn't.'
When asked whether he was expecting them to? He said: 'No I wasn't' adding 'one thing is that I am not a victim. I can handle myself. I can handle my situation. I'm not there for anyone to call and have pity for me. No. I was in, I can handle my situation and I go out of it.'
But the federation refuted his claims with persistence that the GFA Director for International Relations and Competitions Alex Asante phoned Muntari amid the row when he spoke with the GFA president Kwesi Nyantakyi.
A text message from the federation into the radio programme to correct that impression created by Muntari was met with angry response from the midfielder who attacked the Director of Communications of the GFA.
After earlier denying that the GFA ever called, Muntari backtracked by claiming he doesn't consider the phone conversation with the Nyantakyi as call to solidarise with him.
For more Ghana football news visit www.ghanasoccernet.com