SWAG thanks President Akufo-Addo and Sponsors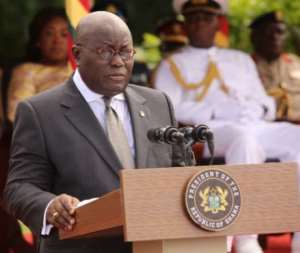 Accra, June 5, GNA - The Sports Writers Association of Ghana (SWAG) has expressed appreciation to the President, Nana Addo Dankwa Akufo-Addo, for honouring its invitation to the 42nd MTN SWAG Awards held on Saturday, May 27, 2017 at the Banquet Hall of the State House, Accra.
A statement signed by SWAG president, Mr. Kwabena Yeboah, described President Akufo-Addo's participation in the programme as historic and momentous, as it was only the second time since former President John Agyekum Kufuor in 2003, that a sitting Head of State, had attended the nation's longest running awards event in Ghana.
It said the presence of the President was a confirmation of the credibility of the annual awards, which has run for the past 42 years, as well as a demonstration of his commitment to the development of sports, which he stated in his keynote address.
"The attendance of the President was a demonstration of his reverence of the MTN SWAG Awards and his commitment to the development of sports in Ghana, particularly as he had to cut short his West African tour to attend the event, meant to celebrate the achievements of sportsmen and sportswomen who excelled in 2016," the statement said.
It also noted the enormous contribution of that the Headline Sponsor, MTN, and other key corporate partners towards the sustenance and success of the SWAG Awards.
Communications giants MTN has remained a loyal partner of SWAG for the last seven years and ensured the event was held each year.
SWAG also expressed its profound appreciation to supporting sponsors such as Activa International Insurance, CDH Holdings, GOIL, Databank Limited, Ghana Free Zones Board (GFZB), uniBank, Stanbic Bank, Twellium Industries, TT Brothers, Guinness Ghana Breweries Limited, Fero Mobile and StarTimes Ghana.
"SWAG Awards remain the envy of sportsmen and sports women in Ghana, who look forward to it every year due to its credibility and status as the nation's premier awards scheme which recognises and honours them for their outstanding achievements.
SWAG also wishes to congratulate all award winners and urged others to work hard to merit such recognition in future.
GNA