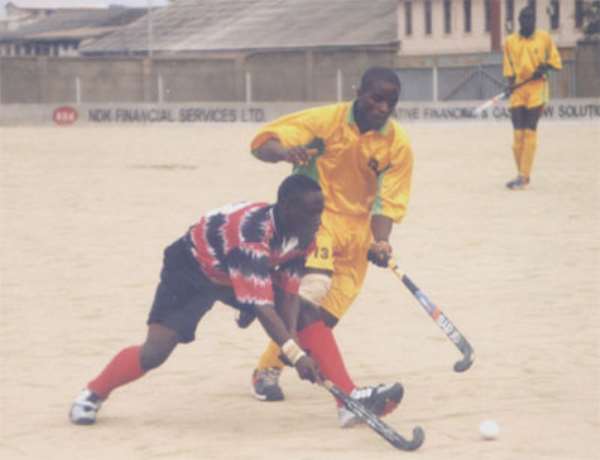 After an unpardonable oversight by the organizers at the prestigious Annual Sportswriters Association of Ghana Awards Ceremony for the year 2003, Hockey makes a return with a flourish. The sport will pick up two awards when the nation's outstanding sports personalities are honored for their exploits during 2004 in the Garden City of Kumasi on Saturday May 7 2005. Ebenezer Frempong, known in hockey circles as Eddie Frempong, the midfield supremo of CEPS and the National Men's team will have a year of hard work crowned with the award of the best male player in the country during the year 2004. Olivia Larteley Lartey, the cool and composed all-rounder of Extinguishers of Fire Services and the National Women's team retained the accolade of the best women player in the country during 2004. Olivia was adjudged the best in 2003 but missed out on the awards ceremony due to that oversight on the part of the organizers.
An elaborate profile of Olivia was posted on this website in 2004 when she was adjudged the best player for 2003. Olivia added to her collection in 2004 by leading Extinguishers to sweep ALL hockey honours in the country but missed out on the ultimate in Africa winning the silver medal in the 2004 edition of the Africa Cup for Club Champions held in Abuja Nigeria.
Ebenezer Frempong crowned a year of hard work by leading his CEPS team to win the Pepsi Hockey League and displacing overwhelming favorites Trustees of SSNIT and defending champions Exchequers of Bank of Ghana to second and third places respectively. His profile is provided in a separate story for the benefit of readers.
The hockey family takes the opportunity to congratulate the two stars and wish them an enjoyable and pleasant ceremony to savor for a very, very long time!!!!