21 April 2017
|
Sports News
Hon. Osei Kyei Mensah-Bonsu: "It will not be feasible to build five new stadia in four years as promised"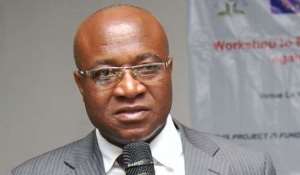 Parliamentary Member of Suame constituency for the New Patriotic Party, Hon. Osei Kyei Mensah-Bonsu has backtracked on their initial plan of constructing five stadia, but says they could fulfil two in four years.
The ruling party, New Patriotic Party (NPP) during their campaign prior to the December general elections promised to build five stadia should they be voted into office.
But, according to the Majority leader, his government can only deliver two stadia because it will be feasible to build more than that.
Speaking to Kessben TV, Hon. Mensah-Bonsu stated, "We promised to construct new stadiums in other regions under our government before and after the elections.'
"But it won't be possible for us [NPP Government] to construct five stadiums during our term."
''It is unrealistic to build five stadiums in four years, maybe two can be possible," he concluded.
For more Ghana football news visit www.ghanasoccernet.com