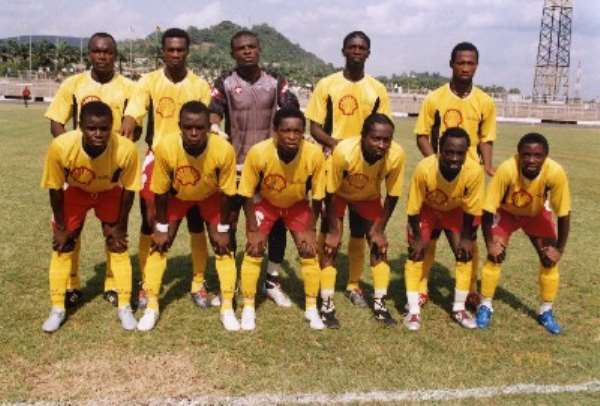 ATEM, DUAH AND SEKYERE ARRIVE FROM SOUTH AFRICA Ashgold's Cameroonian import Valentine Atem and his colleagues Thomas Duah and Owusu Sekyere who were sent to South Africa for medical treatment arrived in the country on Tuesday night 26th April 2005 to rejoin their colleagues in camp. The arrival will boost moral in camp and strengthen Ashgold's squad for the challenges ahead. Meanwhile details of the funeral arrangements of the father of Thomas Duah will be published in the next Friday's edition of the soccer Express. ASHGOLD READY TO SUBDUE ARSENALS Ashgold have sworn to clinch all the three vital points on Sunday against league leaders Berekum Arsenals as the two sides clash in the topmost draw of the Week Four Ghana Telecom Premier League. Though Ashgold were not very devastating at Tema Sports Stadium last Sunday against Real Sportive, the team has made all the necessary corrections to crush Arsenals at the Len Clay Sports Stadium. Ashgold in Focus brings readers comments of players and officials of Ashgold in regards to Ashgold match against Sportive and against Berekum Arsenals. These are the excerpts of the interviews: COACH AUGUSTINE EVANS ADOTEY – ASSISTANT COACH Our match against Sportive was a disappointing one. There was complete lack of determination on the part of our boys thus paying for the price. Ashgold played well in the last 20 minutes but time was not on our side. We could have pressurized from the onset and found the opener to demoralize them but one cannot cry over split milk. Coming to our match against Berekum Arsenals, they have won all their three matches and they are the team to watch. We have however engaged them in two friendly encounters, both home and away that all ended goalless. We should not underrate them at all. I am hopeful with determination we can beat them at Len Clay Sport Stadium. GEE AIDOO – TEAM MANAGER We made all the necessary preparations towards our match against Sportive yet we were highly disappointed by the performance of Ashgold. It is a lesson for the boys to take every match seriously. We have done our technical assessment and all the problems have been identified. Talking about Arsenals match, they are a tough side since our two friendly games against them show that. Yet we will work very hard on the field to get all the three points to make us comfortable on the league table. I will urge the fans to calm down even if the going gets tough but surely by God's Grace we shall clinch all the three points at stake. OFOSU AMOAH We did not play well against Sportive and I have to apologize to our teeming fans on behalf of the playing body. We cannot afford to drop a single point again if we want to keep contention in this season's premiership. We will go all out and win the match by two goals margin.
JOSEPH JACKSON
I do not want to talk about our match against Sportive since a lot has been said about that already. I know the fans are so furious about they way we succumbed to Sportive. Soccer is like that but what I can tell the fans is simple. They should troop to Len Clay in their numbers and rally behind us to massacre Arsenals. They cannot pick even a point from us.
MOHAMMED POLO
Well I did not feature in the Sportive match but I was briefed about the performance of the team was not to our expectation. We have to do our homework well and clinch all the three points to cushion our contention in the premiership title.
MARK KOMADE
This is my maiden debut for Ashgold and I have played two matches this season. I am highly impressed about the level of professionalism in Ashgold. I wish to leave a legacy behind. I really felt bad when we lost to Sportive. Arsenals will surely fall at Obuasi to appease the fans.
KWAKU SARPONG
Well Arsenals will come all out to frustrate us but we have to play above ourselves to silence them. I know it will not be an easy match yet we have to work very hard and convert our chances. I am hopeful they will go down by two goals to nil.
TONY BAFFOE
I do not have to revisit our match against Sportive since football is full of uncertainties. We have to collectively work very hard and win this particular match. I will urge the fans to however rally behind us even in times of difficulties. I know victory will be ours on Sunday.
GABRIEL OPOKU-WARE
God knows what is good for us and he works according to his plan. Arsenals have won all their three matches and we cannot write them off. However we cannot also afford to drop a single point at this crucial moment. We have to do everything possible within our capabilities to beat them at Len Clay Sports Stadium to climb to the top position.
SHAIBU YAKUBU
Well we have to fight very hard for the three vital points. I hope with a collective play coupled with determination the skies should be the limit.
STAUCH ASHGOLD SUPPORTER MAKES PRESENTATION
A staunch Ashgold fan in a person of Kwabena Amponsah alias "Lalas" presented a crate of Amstel Malta to the players of Ashgold prior to their league match against Sportive at AngloGold Ashanti guesthouse located at Sakaman a suburb of Accra. "Lalas" during the presentation did not mince words by saying, "Ashgold is my darling club and I will continue to render my quota to the welfare of the club. I make this token presentation to the team as a morale booster for our match against Sportive." He urged the players to take this season's premiership seriously to get a respectable position on the league table.
The skipper of the side Kofi Amoako on his part expressed his appreciation to the gesture and assured the fans of their total commitment to the achievement of the stated goals. Kofi urged other supporters to emulate the good work of "Lalas" and patronize Ashgold matches in their numbers.