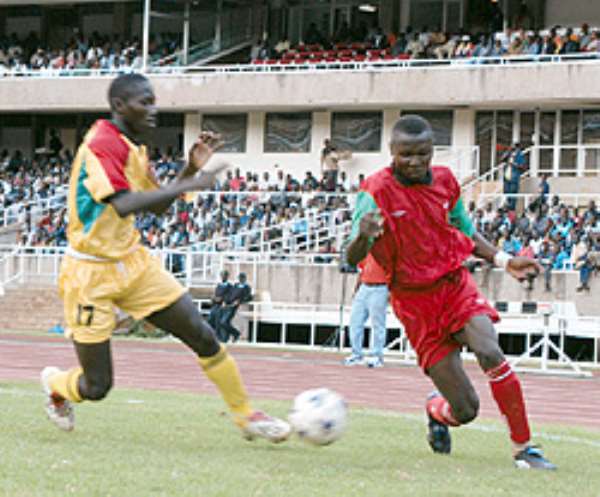 GHANA's Black Starlets are ready to conquer Africa and the world again, but on condition that all their outstanding allowances and bonuses are settled ahead of the Africa Under-17 Championship which kicks off next weekend.
Though the Starlets are scheduled to leave for The Gambia on Tuesday, all is not well with both the playing body and the technical team.
A few days to the team's departure, there are still no signs of them receiving their unpaid allowances, creating much anxiety in the team at this crucial period.
A working visit to the team's camp at the Maple Leaf Hotel in Accra by the Graphic Sports last Wednesday on their return from a three-week training tour of Egypt revealed a catalogue of problems facing the team which need to be addressed as soon as possible by officialdom to avert a dismal performance in The Gambia.
During the visit, it came to light that the players' allowances were in arrears for over 10 weeks while salaries of officials had not been paid for months. This is in addition to a special qualification bonus promised the team by the Sports Ministry before its final qualifier against Ethiopia last January.
As has been the norm with national teams over the years, it was also discovered that the team's kit for the tournament was not yet ready.
Even more disturbing was the fact that both players and officials were seen in different kinds of apparel quite unlike a team which was preparing for an international competition like the Africa Cup.
In spite of these, the Starlets managed to excel in Egypt by winning two matches and drawing the other against stiff local opposition.
The Ghanaians who lodged in the Olympic Village in Ismailia alongside their Egyptian counterparts defied an unfamiliar cold weather and hostile crowd to draw 2-2 with their hosts with 10 men after James Tagoe was sent off in the 60th minute.
In the return duel played under floodlights against the Egyptians who will not be in The Gambia though, but are being prepared for future assignments, the Starlets showed their class by winning 2-0 in front of many dignitaries.
In their last match played last Wednesday, the Starlets walloped a local first division side 5-1.
The team was expected back in Winneba yesterday to round off its preparations before leaving finally on Tuesday.
Though 24 players are currently in camp, only 18 will officially be entered for the eight-nation tournament. Ghana won the inaugural edition of the African Championship in 1995 and repeated the dose in 1999, and therefore stands the chance of winning the Ydnekatchew Tessema Cup for keeps in The Gambia.
The Starlets are drawn in Group A alongside the host nation, Mali and Burkina Faso, while 2001 champions Nigeria, South Africa, Cote d'Ivoire and Zimbabwe constitute Group B.
Three teams will qualify for the World U-17 Championship in Peru.