Ghana Qualifies For World Junior Championship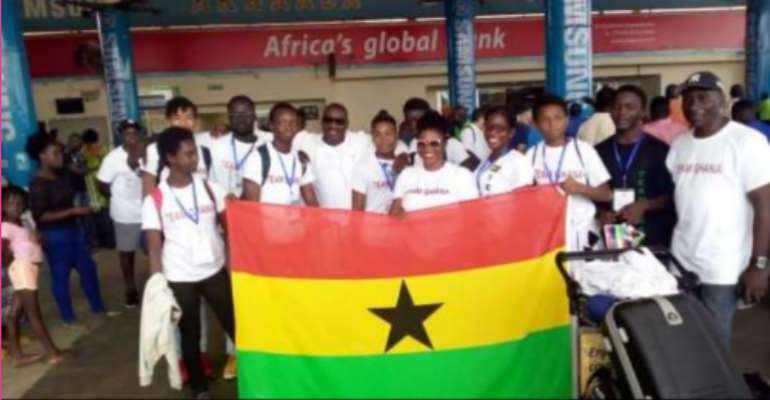 The National Junior Swimming team have arrived home from Cairo after participating in the African Junior Swimming Championship in Egypt.
The team, made up of two females and five males took part in the G1 and G2 categories, with two swimmers making it into the finals in a competition, that had African heavy weights in swimming, such as Egypt, South Africa, Tunisia, Morocco and Kenya.
"It was heart warming that two of the children made it to the finals of the G1 50 meters breaststroke and 100 meters free style final.
According to coach Jackson, the group is being groomed to take over the senior national team.
"We have a program in place that seeks to pick and train young ones. After we add a bit of skills to them for competitive swimming at the senior level.
"This would help us have a generation of swimmers, who would be competitive internationally." He added.
Captain for the team Kow Asafua Jackson, noted that though the competition was not easy, they gave out their best.
"I did my best and went for two finals, so did Maayaa and the rest of the team.
"The team is proud of our achievement though the competition was tough, with the likes of Egypt, Tunisia competing.
The team was led by the National Junior Team Coach Mr. Jonathan Amoako-Atta and Akosua Boatemaa Baidoo Team Physiotherapist.
Ghana's Junior swimming team captain Kow Asafuah Jackson led the likes of Maayaa Abigediwer Ayawere, Ryan Degraft Ackun, Prince Abdullah Adjetey Sowah, Micheal Ego Kumi, Rebecca Boatemaa Asare and Papa Yaw Poku-Dwumoh to strive for the laurels at the tournament.
Sammy Heywood Okine
Sports Journalist