Young swimming duo qualify for African Junior Championship final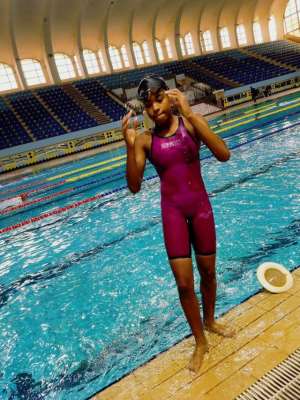 Two of Ghana's swimmers at the ongoing African Junior Championship , Maayaa Abigediwer Ayawere and Kow Asafuah Jackson, have qualified for the 50 m breast girls and 50m free boys finals in Cairo.
Maayaa and team captain Kow Asafuah Jackson made the country proud after qualifying from their heat with impressive times.
Maayaa swam an impressive swim which currently makes her the 6th best junior breast stroke swimmer in Africa.
The championship will be held Between 28-31st of March, 2017. The team is led by the National Junior Team Coach Mr. Jonathan Amoako-Atta and Akosua Boatemaa Baidoo their Physiotherapist.
The swimmers are: Kow Asafuah Jackson (Captain) , Maayaa Abigediwer Ayawere, Ryan Degraft Ackun, Prince Abdullah Adjetey Sowah, Micheal Ego Kumi, Rebecca Boatemaa Asare , Papa Yaw Poku-Dwumoh.
The team is expected to return on the 1st of April
Preliminary Events
Event 37: Women 13-14 50meter Free G1 Heat2 ( Maayaa A. Ayawere) Entry Time: 30.65
Event 39: Men 13-14 50M Free G1 Heat 1 (Michael Ego Kumi) Entry Time: 29.87
Event 39: Men 13-14 50M Free G1 Heat2 (Kow Asafua Jackson) Entry Time:27.13
Event 40: Men 15-16 50M Free G2 Heat 1(Ryan Degraft Ackun) Entry Time: 30.48
Event 45: Women 13-14 50M Back G1 Heat2 ( Rebecca Korantemaa Gayathri Asare) Entry Time: 39.20
Event 47: Men 13-14 50M Back G1 Heat1(Papa Yaw Poku-Dwumoh) Entry Time:34.55
Event 48: Men 15-16 50M Back G2 Heat2 (Ryan Degraft Ackun) Entry Time 36.97