Decathlon Ghana supports Astros Football Academy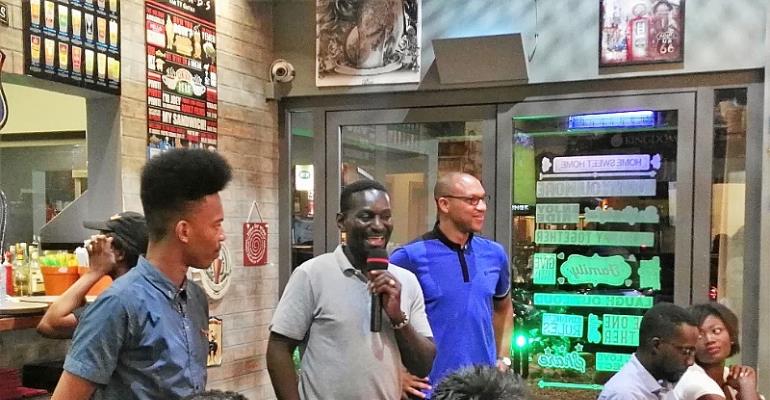 Decathlon Ghana, the leading French sports store on Monday bequeathed some Abedi Pele autographed jerseys and equipment to raise funds for Astros Football Academy in Accra.
The fund raising and auctioning ceremony which took the Lord of the Wings Restaurant at East Legon attracted some corporate entities like Bank of Africa, Lara Mart and NASCO Electronics Company.
Wesam Moussallem CEO of Astros Academy said she was very passionate about football and was marveled at the massive talent in Ghana, so five years ago, decided to invest in the game with the formation of the team to groom young stars.
Currently, they have teams for U17, U15, U13, U8 and U3 for toddlers.
She said the vision of Astros is to produce world class stars to play high level pro soccer and wants corporate Ghana to support her dream.
The Manchester United fan commended the companies, media and individuals who have backed her dream which has become a reality and growing bigger.
Lawrence Clifford Poku Amankwah, a football agent said in May, there would be a justification exercise with scouts coming from Europe and USA to pick players.
He urged the Astros boys to train hard to benefit from the programme as hundreds of football players would be given opportunity to showcase their talents and those selected would taste professional football.
Kwasi Tabury, Decathlon Ghana Country Manager hinted that their main big store is going to be opened to the public on May 22 and invites all sports lovers to grace that event.
He said Decathlon has been in existence for over 40 years operating for over 35 sports disciplines and he has been with them for the past 17 years working in different levels and capacities.
He noted that Ghana is a great sporting nation and Decathlon decided to put up one of the biggest shops at Junction Mall at Nungua in Accra to support the people.
According to Tabury, Decathlon products are durable and affordable.
By Sammy Heywood Okine