Stars Video Analyst Hot …Over Unpaid Hotel Bill…Prevented From Checking Out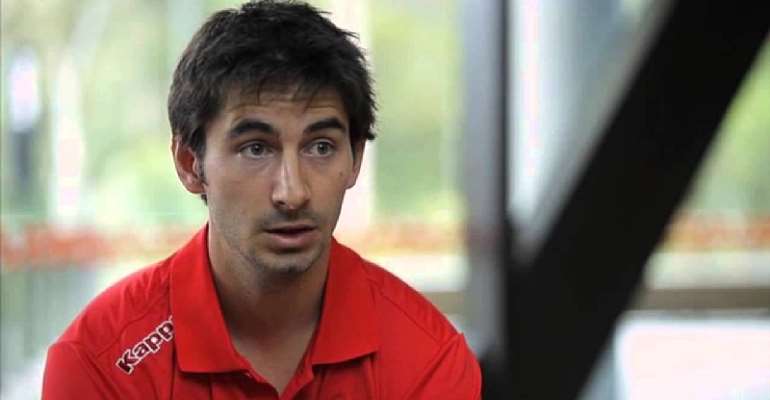 It has come up from the corridors of North Ridge- based Alisa Hotel that ex video analyst of the Blacks Stars Gerrard Nus has been prevented from checking out of his room.
The Spaniard analyst has been occupying and enjoying facilities of the hotel since February in protest of unpaid bonuses by the Youth and Sports Ministry and the Ghana Football Association (GFA) for his services during the last Nations Cup in Gabon.
Indications were that, his creditors finally paid him monies owed him, but the hotel managers demanded that he paid all accumulated bills of laundry, food, drinks etc before he checks out.
Before the Ministry paid him off, the video analyst had gone haywire on various platforms demanding his pound of flesh.
One of such demands stirred Ghana Football Association (GFA) president Kwesi Nyantakyi to explain that he was not the only one the Ministry owed, and that the payment was going through a process.
Officials of the Black Stars including former coach Avram Grant left camp after the Gabon championship without bonus.
Grant after tendering his resignation few days later left the Alisa Hotel where he was based to London, but Nus insisted until he receives his bonus he will not vacate the premises.
Nus, who was with the team during the 2015 Nations Cup in Equatorial Guinea  was quoted as stating somewhere that he did not pay for services rendered him by the hotel in the past.
Meanwhile, the GFA has condemned Nus saying: "At the end of the AFCON we told the technical team of the financial challenges and all of them agreed to go home but Gerard insisted that he wants to stay to collect his money.
"Even the person who brought him – Avram Grant had agreed to leave knowing that out of the goodwill and work we've had with them for two years… It's not just about Gerard, it's about his boss Avram Grant, all the Ghanaian backroom staff, all the foreign backroom staff including Mariana [Kovacevic], Jamie Lawrence all of them agreed to go…"
 By Kofi Owusu Aduonum