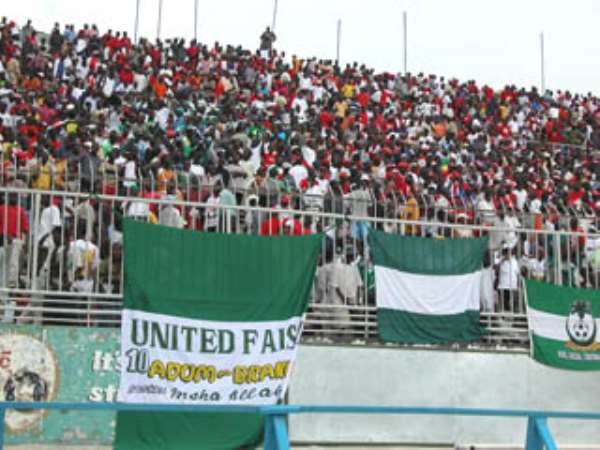 KING Faisal's president, Alhaji Karim Gruzah, insists his team will strip Bendel Insurance of whatever strength is left in them in their second leg CAF Confederation Cup preliminary match at the Baba Yara Stadium in Kumasi on Sunday.
He said the Nigerians were stubborn in the first leg, but they have the keys to unlock them in Kumasi.
Perhaps the accomplished soccer administrator's confidence is bolstered by the recovery of some first team players from injury. Midfielders Kwabena Poku and gritty defender Shilla Illiasu have recovered from a muscle strain and a head injury respectively and are ready for action on Sunday.
Fans of Faisal were brooding over the possible absence of tried and tested players in the team and the ability of the side to overcome the Nigerians with a depleted side.
But with Coach Oti Akenten likely to possess his full squad, Faisal look set for victory. The Ghanaians go into the game with a psychological edge, having drawn the first leg 0-0 away.
But they are not complacent. Oti Akenten has warned several times that football at the continental level has changed and upsets have become the order of the day.
Consequently, the coach is in no mood to take any chances and is poised to go all out for victory and advance towards the group stage of the competition.
Having been booted out of last year's tournament at this stage, Faisal should have learnt their lessons well, and cannot compromise on anything that would see them falter on the way again.
If they produce a typical game on Sunday, it will not be surprising if the Nigerians carry a huge load of defeat back home.
Faisal themselves admit Insurance are not a bad side, and as such it will be dangerous to underrate them. They are strong on the ball, run very fast and look dangerous in front of goal.
Once again Faisal will count on the form of Eric Gawu for the goals. He was fantastic in the first leg but was unlucky not to have registered a goal.
Insurance, who arrive in Kumasi today with a 35-man contingent, will be arriving with one big aim - to dent the hopes of the Ghanaians.
Having at the back of their mind the elimination of Hearts from the Champions league by another Nigerian side, Dolphins, Insurance will attempt to follow the steps of their compatriots and send Faisal to sleep.
A typical attack of Wilson, Sumaila and Gawu will be too strong for the Nigerians to handle, especially when the necessary support services come from the middle where Prince Antwi and Kwabena operate.
Kumasi fans have promised good patronage, and with a massive support there is no way Faisal will disappoint.