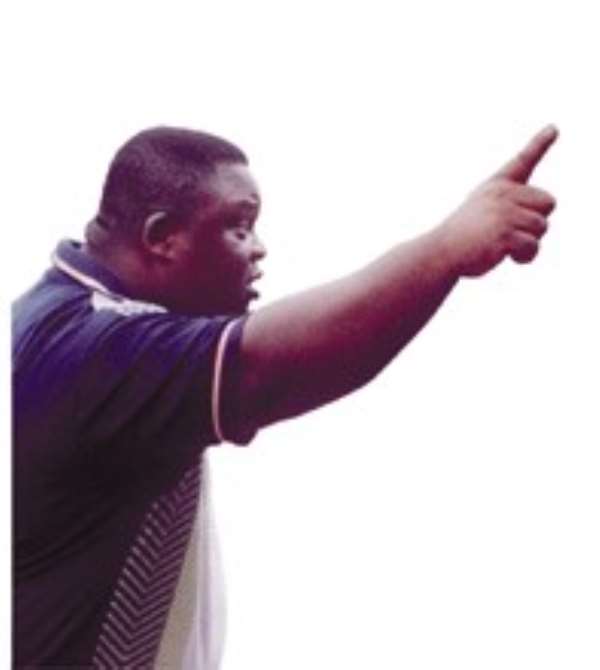 AFTER three years of leadership, two league titles, one continental trophy and a stunning season-opening defeat, Hearts of Oak's Chief Executive, Mr Thomas Okine, has quit the job.
"I gave myself three years to head Hearts and now that the period has expired, it is time to give way to some other person to carry on," Mr Okine told the Graphic Sports yesterday.
And as Hearts suffered a shock defeat at the hands of Dwarfs in Accra last Sunday, the angry bunch of supporters would realise belatedly that the man at whom they had directed their anger had long assumed a back seat role in the club, for which reason he did not turn up for the game.
Mr Okine's departure, however peaceful and uneventful it might have been, is set to engulf Hearts in another long row over a substantive leader.
His current deputy, Francis McCarthy, and colleagues on the management, Isaac Tetteh, a.k.a. T. T. Brothers, Clement Dodoo who has been in charge of finance, Kojo Twum-Boafo, and National Chapters Committee Chairman, Neil Armstrong-Mortagbe, who has been proposed by the supporters as their representative on the Board, are among front runners for the vacant post in Ghana's oldest existing football club.
On the side line is another set of contenders, a coalition of forces fundamentally opposed to the entire structure of Hearts.
The Ato Ahwoi-chaired Board, in whose hands authority rests now, is expected to name a successor through the characteristic imposition or through an advertisement and a subsequent adherence to modern day appointment procedures.
In his resignation letter to the Chairman of the Board of Directors dated Friday, April 15, 2005, Mr Okine wrote: "My reason (for resigning) is based on the fact that three years as Chief Executive of the club is quite sufficient and that I should pave way for someone else to continue.
"I am most grateful to the President of the Council of Patrons, the Board of Directors, colleague management members, the entire supporters and, indeed, everyone for the opportunity they offered me to serve this club," the letter said.
Although his decision ends calls for him to step down, Mr Okine, who though retains his position as a Director of the club, said he leaves with no bitter feelings, but great joy at his contribution to the Phobian course.
Under his leadership, Hearts won the last of their record six straight titles in 2002, were runners up to main rivals Asante Kotoko the following year, and won their seventh league title in eight years with a 1-0 victory over Kotoko in the April 3 decider in Accra.
These notwithstanding, he suffered a turbulence in his reign, fighting off stern criticisms from the rank and file, the majority of whom had also supported his appointment from the beginning.
After an uninspiring performance in the fourth Coca-Cola Top 4 tournament, a section of Hearts supporters demanded his immediate resignation alongside the management team, and on the heels of the action amidst mistrust between him and the supporters' executives, was reportedly embroiled in a physical brush with an officer of the supporters at a club stakeholders meeting last February.
"I wanted to part after settling the players all that we owed them," he told the Graphic Sports, "but while our prize money from CAF for winning the Confederation Cup delayed by the day and weeks, time ran out for me".
The signs, however, speak of a frustrated Chief Executive who is leaving at a time the club is riddled with over a ¢7 billion debt, but whose assets are not far beyond the $83,000 sectretariat in Accra, team buses, and playing equipment.
Incidentally, it is the same club that reaped $750,000 in compensation for the aborted 2001 World Club championship, $450,000 for winning the CAF Champions League in 2000, and more than $500,000 for participation in successive Champions League between 1998 and 2000.
Until his appointment as Chief Excutive, Mr Okine had deputised for Harry Zakkour for four years during which period they won their maiden continental silverware, the CAF Champions League. He had also worked in various departments of the club, including holding the post of Team Manger and Welfare Manager at different times.