List of Africa Cup of Nations winning coaches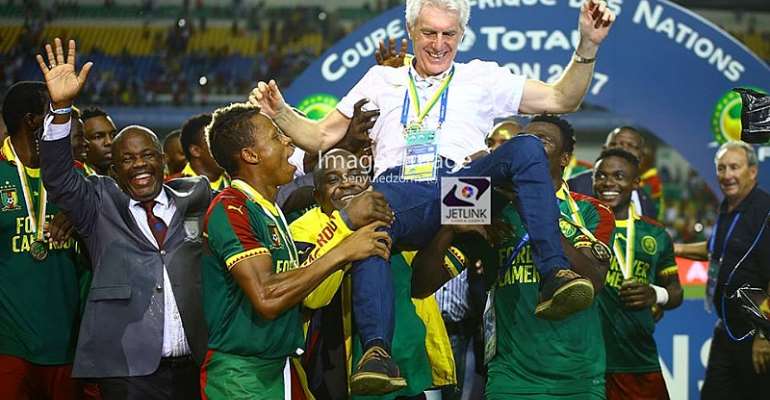 Belgian Hugo Broos became the fifteenth foreign coach to win the Africa Cup of Nations.
Broos guided a second-string Cameroon side to earn a come-from-behind 2-1 win over Egypt in the final of the 2017 Africa Cup of Nations in Libreville, Gabon.
He joins the elite list including Claude Le Roy (France), Pierre Lechantre (France), Winfried Schafer (Germany), Slavko Milosevic (Yugoslavia) and Clemens Westerhof (Netherlands).
1957 - Egypt - Mourad Fahmy
1959 - Egypt - Josef Titkos (Hungary)
1962 - Ethiopia - Slavko Milosevic (Yugoslavia)
1963 - Ghana - Charles Gyamfi
1965 - Ghana - Charles Gyamfi
1968 - Congo-Kinshasa - Ferenc Csandai (Hungary)
1970 - Sudan - Abdelfattah Hamad
1972 - Congo - Adolph Bibanzulu
1974 - Zaire - Blagoje Vidinic (Yugoslavia)
1976 - Morocco - Gheorge Mardarescu (Romania)
1978 - Ghana - Fred Osam Duodu
1980 - Nigeria - Otto Gloria (Brazil)
1982 - Ghana - Charles Gyamfi
1984 - Cameroon - Rade Onganovic (Yugoslavia)
1986 - Egypt - Mike Smith (Wales)
1988 - Cameroon - Claude Le Roy (France)
1990 - Algeria - Abdelhamid Kermali
1992 - Cote d'Ivoire- Martial Yeo
1994 - Nigeria - Clemens Westerhof (Netherlands)
1996 - South Africa - Clive Barker
1998 - Egypt - Mohamed Al Gohari
2000 - Cameroon - Pierre Lechantre (France)
2002 - Cameroon - Winfried Schafer (Germany)
2004 - Tunisia - Roger Lemerre (France)
2006 - Egypt - Hassan Shehata
2008 - Egypt - Hassan Shehata
2010 - Egypt - Hassan Shehata
2012 - Zambia - Herve Renard (France)
2013: Nigeria - Stephen Keshi
2015: Ivory Coast - Herve Renard (France)
2017: Cameroon - Hugo Broos (Belgium)