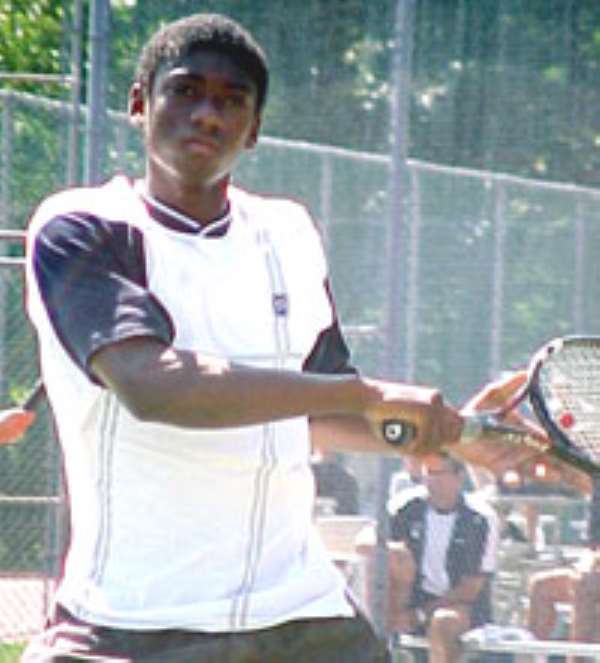 Accra, April 1, GNA - Henry Adjei-Darko, Ghana's top seed is making waves in Nigeria after advancing to the semi finals of the Nigeria Futures Tournament I on Thursday.
Adjei-Darko, currently ranked 526 by the International Tennis Federation, (ITF) defeated Stanic Jan of Slovakia 6-7, 6-4 and 6-4 in the quarter-final game played on Thursday afternoon. Jan, ranked 594 in the world was no match for the Ghanaian as Adjei-Darko relied on his powerful serves to crush the Slovakian out of the tournament.
Adjei-Darko is scheduled to meet Raven Klaasen of South Africa who is also ranked 523 by the ITF on Friday afternoon.
Speaking to the GNA Sports, the Ghanaian expressed confidence of making it to the finals and possibly go ahead to win the tournament. Adjei-Darko last month featured for the nation in her Davis Cup match against Finland but failed to make much impact in the match after suffering from a severe muscle pull in his first game against Tuomas Ketola.
The injury robbed him of victory, as he never recovered well for the remaining matches.
The top seed is yet to show any sign of that injury in all the games that he has so far played in the tournament and is set to advance to the finals of the competition.
Adjei-Darko is scheduled to participate in the Futures Tournament II next week in the same country.