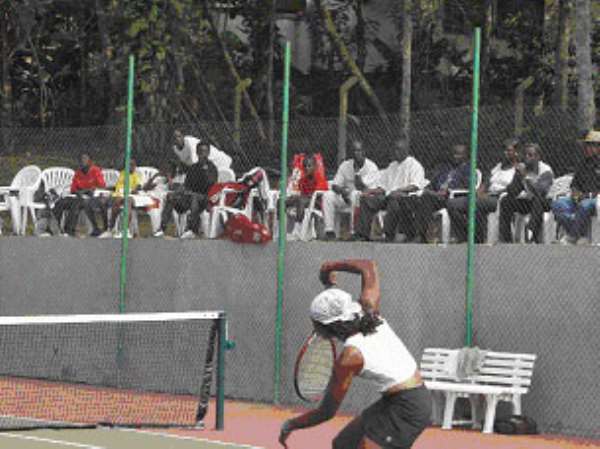 (Part 1) In the aftermath of the thrashing Ghana received in the Davis cup-tie between Finland, there will be lots being voiced and written about the Golden Racquets, our men's tennis team. The question that needs answering, is there a ladies team, perhaps the Golden Ladies or Queens. In a three part series, we will uncover the reasons behind the vacuum or perhaps a black hole in our women's Game.
To those of you who are not versed in tennis, the Davis cup is a men's team event for all nations with various zones. Now, we are on the topic of women's tennis, hence, those who are in the know, are aware that the international team competion for women is the Fed cup, also with various zones, pardon me for asking, has any one in Ghana heard of our women compete ting in this event and what zone are they in seventeen years on, Ghana's debut in Davis cup (men's team tennis) was in 1988, seventeen years ago just for the record.
The fact of the matter is, our women are seen has second class citizens or play things for the big belly-men (minsters, bussinesmen, coaches and administrators) what one means by this is that, any person who has ever been to a tennis club or facility will know that you have young youthful good-looking, model type girls playing the sport, lets look at international tennis, we have the Williams sisters, Maria Sharpova, Anna Ko and Maria Myskina. Well these young ladies are in demand for modelling all sorts of commodities from milk to sexy underwear. The reality is that from a young age these girls would have had escorts/mentors. Protection by their parents, also rules and ethics that govern the sport for which, parents, coaches, administrators and big belly-men will have to adhere. In doing so many of the above will not be able to have their wicked ways with these impressionable girls. However, in Ghana their fair game.
For all certified national coach working in Europe and the USA, one has to undergo a CRB check (criminal record Bureau) you have to have your coaching license reviewed every three years, In Ghana we do not have these measures in place, hence paedophiles are working with young venerable girls. I am certain most of you advocate that, it is an affront, but the Ghana tennis association (GTA) does not even have a female coach in it s coaching line up, in a age of equality, which means young girls are travelling domestically and abroad with male coaches and officials, most developed and civilised nations will have a female on the coaching or official team even if it means, she's there, only as a escort for the girls.
Ironically, writing this article opens a can of worms and exposes a lot of weakness in our approach to handling sports, the intimidation, nepotism and corruption that goes on, though we are not writing about intimidation, corruption or nepotism.
Three years ago, Woke Int. Tennis Academy (WITA) had the opportunity to assist the top four Ghanaian girls; Rita Baodoo,Ivy, Isaniom and ishiutu Karim. These girls had a lot of tennis potential, what they needed was professional assistance which we offered to them.
At this point, the assortment of problems where unleashed onto us by so-called GTA officials and coaches.
In part two, we shall reveal what the assortment of problems where and the follow up on where these girls are now or what they are doing.