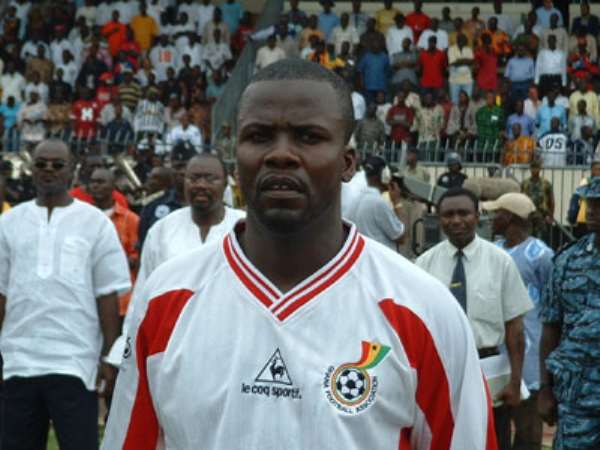 ... Kuffuor slams Ghana's FA Ghana defender Sammy Kuffuor has accused the country's football authorities of 'lying' about the state of his health.
Kuffuor, who plays for German clubside Bayern Munich, was dropped from the Black Stars squad for Sunday's World Cup qualifier against DR Congo, on the grounds that he was unfit to play.
But the 2001 BBC African Footballer of the Year said in an exclusive interview on Thursday that officials of the Ghana Football Association (GFA) were not telling the truth.
"It is not true [that I am injured]. They are lying," Kuffuor told BBC Sport from Ghana, where he is attending to his sick father.
"If the coach does not want me to play, that is fine but they should not say that I am injured.
"I want to help my country go to the World Cup but if they do not want me there is nothing that I can do about it," he said.
A winner of the 2001 Uefa Champions League with Bayern, Kuffuor has had several skirmishes with previous national team coaches and GFA officials in recent years.
He was expelled from the Black Stars squad at the 2002 African Cup of Nations in Burkina Faso and was critical of Fred Osam-Duodu, then coach of the team, on the decision to drop several Europe-based players from the squad.
Kuffuor said the latest episode in his international career does not rattle him.
"This (experiencing problems with the national team) is nothing new.
"I have played for the national team for 13 years and I have experienced all sorts of things."
Kuffuor, who said he was given permission by his club to travel to Ghana, will be returning to his Munich base over the weekend.
Ghana, one point behind leaders South Africa in Group Two, require a win in Kinshasa to be in the driver's seat for the sole World Cup ticket.