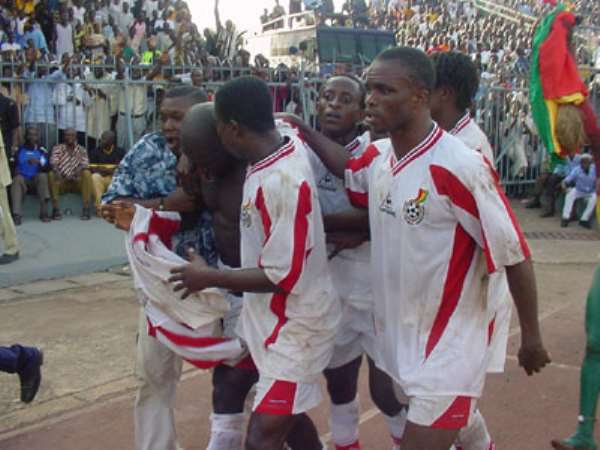 Ghana's national football team arrived in Nairobi yesterday ahead of their Africa Cup of Nations qualifying match against DR Congo at the weekend. The Black Stars are setting up camp in Nairobi to prepare for the match, which also counts as a World Cup qualifier. The March 27 tie will be staged in Kinshasa. An advance party arrived in Nairobi on Tuesday led by Football Association officials Acheampong Kwesi and Wilberforce Mfum. The rest of the squad is expected on Tuesday, but coach Ratomir Dujovic from Slovakia arrives this morning. "We believe there is luck in Kenya and that is why we chose to train here," Kwesi told journalists yesterday. He said they are taking the match very seriously and will bring all their top players.
The full contingent will have 14 professionals and eight home-based players.
Olympic Lyon's Michael Essien is, however, suspended for the tie. Essien, who has elicited interest from European giants, Real Madrid, Manchester United and Arsenal, is one of the best midfielders on the continent.
Defender Samuel Koffour, who plays in Germany for Bayern Munich, might not make it due to an injury.
Stephen Appiah, who turns out for Juventus in Italy, and Sarpei Hans Adu of Wolfsburg in the German League will be available.
"For us it is a make or break match because we understand that a win will move us closer to qualify for the World Cup," said Kwesi.
He said they are determined to dislodge South Africa who lead Group Two with nine points.
DRC, who are level on points with Ghana in the qualifiers, held the three-time Africa champions to a barren draw in the first leg match last October in Accra.
Kwesi said they are making arrangements to play the Kenya team, Harambee Stars next Tuesday. Stars will host Botswana on March 26 in another Africa/World Cup qualifier.