Dortmund, Real Share 2-2 Draw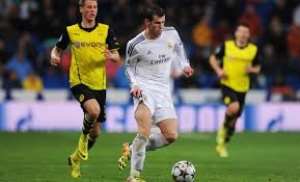 A see-saw battle between wily champions Real Madrid and young pretenders Borussia Dortmund ended in a 2-2 draw on Tuesay night, a result that will leave both sides feeling relatively satisfied and believing thinking they can go far in this year's competition.
Toni Kroos said on Monday that this would be Real Madrid's first real test of the season and the Champions League holders showed their mettle with goals from Cristiano Ronaldo and Raphael Varane. Between those goals, Dortmund equalised when Varane unfortunately found his own net after a Keylor Navas error. Thomas Tuchel's emerging team made their own luck late on, though, with substitute Christian Pulisic assisting for fellow replacement Andre Schurrle to equalise.
–espnfc