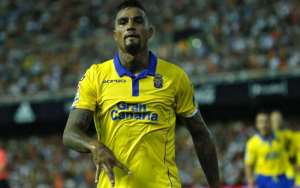 Las Palmas midfielder Kevin-Prince Boateng says lack of playing time accounted for his departure from the English Premier League.
The 29-year-old played for Portsmouth and Tottenham Hotspur during his stint in England.
And the former AC Milan star admits lack of games left to the decision to leave the United Kingdom.
"The league is superb, however, I wasn't playing that much, particularly when I was at Tottenham," Boateng told FIFA TV.
"That was not such a good time for me, but I needed that period to realise once more that football is not just about talent, but also about hard work."
Boateng has hit the ground running since he joined the Spanish side as a free agent.