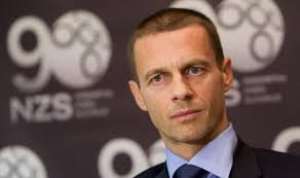 Athens, Sept. 14, (GNA/dpa) - Aleksander Ceferin of Slovenia was elected the new president of European football governing body UEFA on Wednesday to succeed the banned Michel Platini.
The 48-year-old Ceferin, president of the Slovenian football association, defeated his only challenger the Dutch FA president Michael van Praag by an overwhelming 42 votes to 13 at an extraordinary congress in Athens.
"We are the guardians of the beautiful game," Ceferin said. "This responsibility is my compass and I want to maintan the balance between all the stakeholders."
Ceferin's most pressing tasks include reassuring the smaller associations in UEFA over recent changes to the Champions League which favour bigger countries and the bidding process for the 2024 European Championships.
Platini was banned from football in connection for what Swiss prosecutors described as a disloyal payment of some 2 million Swiss francs (2 million dollars) he received from then FIFA president Joseph Blatter in 2011 for work done as a FIFA presidential adviser a decade earlier.
Ceferin will now complete Platini's third four-year presidential term, which expires in March 2019.
Van Praag, 68, failed to convince delegates he was the man to take UEFA forward. His pre-election speech contained no revolutionary ideas but he said his age was not a problem, pointing out that Mick Jagger and the Rolling Stones continue to tour into their 70s.
Ceferin, a lawyer, intends to discuss mandate restrictions and the introduction of a compliance department during his time in office and rejected accusations he lacked experience.
"If you always talk loudly to be a leader, you are probably not one," he said. "I am not a showman and I'm not a man of unrealistic promises."
And he also insisted he was not merely the frontman for others working behind the scenes.
"One day I am the puppet of (FIFA President Gianni) Infantino, on the next day the puppet of Platini, on the third day a Russian puppet.
"People obviously have problems in understanding that I am independent."
Before the election Platini was allowed to make a farewell speech having been given special permission to address the congress by world governing body FIFA despite his four-year ban.
"You are going to continue this wonderful mission without me," Platini told delegates. "I have a clear conscience, I have not made mistakes and will continue my fight in court."
The 61-year-old Platini, a former Juventus and France great, is now set to break his decades-long association with the game. Until being brought down by scandal, he was a strong candidate to replace Blatter as FIFA chief, a job which eventually went to former UEFA general secretary Infantino.
Italy's Evelina Christillin, organizer of the 2006 Winter Olympics in Turin, was elected uncontested as UEFA's female representative on the FIFA council. New FIFA rules say every confederation must have at least one female member of the council.
GNA