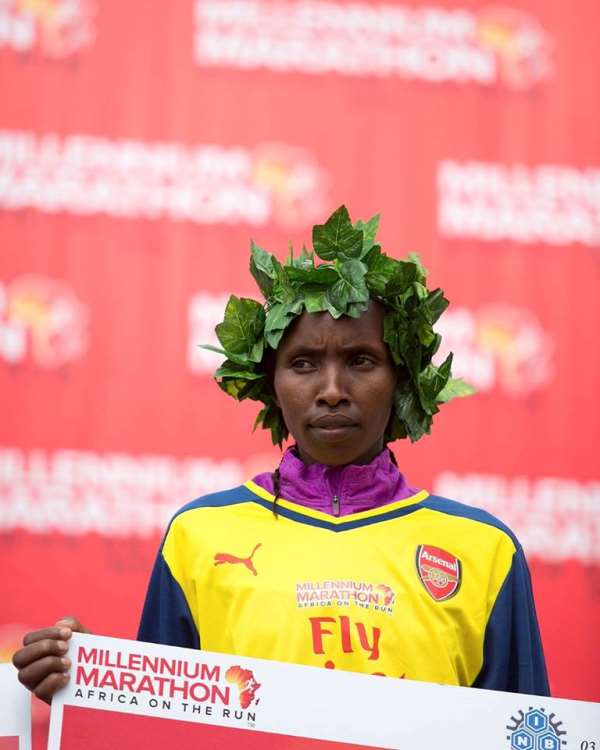 Penninah Kigen said she did not struggle to win the 2016 Millennium Marathon in Accra because she had prepared several months ahead of the competition.
"I am very happy to win this competition because I prepared for almost three months. It was not a difficult race for me because I have been doing this all my life," the Kenyan who has participated and won many international competitions told the media.
First placed and overall winner George Wayaiki crossed the finish line in a time of 1:05:24 hours while Penninah completed the 21km race in 1:18:42 hours to the delight spectators at the finishing point.
Ghana's Sakat Lariba and Malik Yakubu also had lots of cheers when they crossed the finish line as first runners-up in their respective races to guarantee for themselves two new Peugeot cars plus GH¢25,000 each.
For Wayaiki, who lost to Ethiopian Terefa Debele in the maiden Millennium Marathon, the experienced he gathered from last year enabled him run a tactical race as he paced himself well along the 21-kilometre stretch before breaking away in the last three kilometres.
Colombia's Andres Camilo Camargo finished in fourth position in the men's event to take home a cash prize of GH¢10,000 and a medal.
Former Ghana marathon queen, Millicent Boadi, and 2011 Milo Marathon champion, Arkuka Williams, who finished second and third in the female and male divisions in the maiden event, failed to improve upon last year's performance as they placed fifth and eighth respectively.
Over 7,000 local and foreign runners, including para-athletes riding in wheel chairs battled for the mouth-watering prizes or participated in the 5km event for families, corporate bodies, keep fit clubs and runners who just wanted to engage in exercise for the fun of it.
Botsyo Nkebe was declared winner of the first ever wheel chair category at the 2016 Millennium Marathon in Accra.
It was the first ever marathon in Ghana to recognize the para athletes and the participants displayed splendid performance and sportsmanship.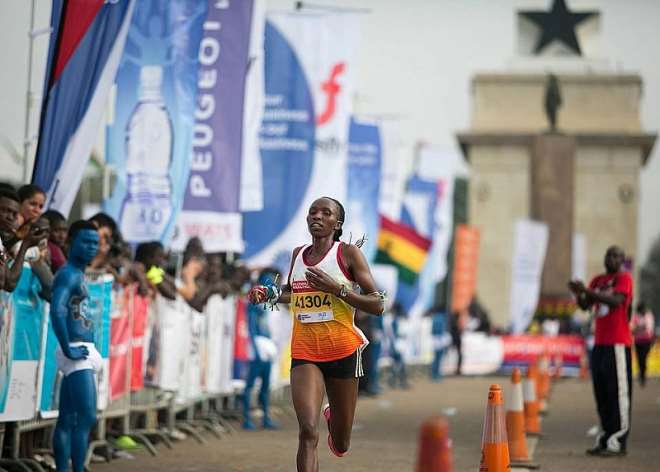 Peninah Kigen Winner F Mm 2016