Reiss & Co and Kasparov Chess Foundation Africa support 6th President's Cup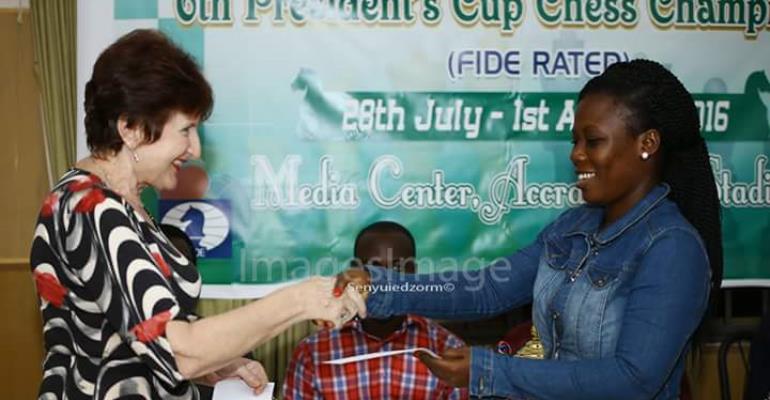 The Ghana Chess Association hosted undoubtedly the most prestigious chess tournament in the country, the President's Cup Chess Tournament, at the Sheridan Hotel from 28th July to 1st August 2016. This tournament, which is rated internationally by the World Chess Federation, has been the initiative of the President of the Association, Group Captain George Arko-Dadzie.
The vision of Group Captain Arko-Dadzie was to establish an internationally recognized and attractive chess tournament in Ghana. This has become a reality through assistance from Reiss & Co Ghana Limited and the Kasparov Chess Foundation Africa. They jointly sponsored this year's 6th President's Cup.
The 6th edition attracted players from Nigeria and La Cote d'Ivoire and after five days of battle on the chessboard, the defending champion Emmanuel Ochuko Onovughe could not hold on to the crown he picked in the 5th edition and settled for the 3rd position. Ajibola Olanrewaju, also of Nigeria, emerged the winner without losing a game but drawing twice and picking 8 points. Degondo Simplice Armel of La Cote d'Ivoire placed second also with 8 points but losing to the champion in the head to head contest. Ghana's topmost ranked player, Joseph Jamena Mensah came 5th after another Nigerian David Erhabor who took the 4th position.
The best performing ladies were Angela Ayiku and Christiana Ashley of Ghana. They both had 3½ points and shared the allocated prize fund.
Ghana will be represented in both the Men and Women competitions of the upcoming World Chess Olympiad slated for Baku, Azerbaijan, and the timing of the 6th President's Cup presented an opportunity for them to vie their strengths against their counterparts from Nigeria and La Cote d'Ivoire.
Mr Michael Asante of Reiss & Co presented prizes to the award winners and noted that chess is not a matter of age or gender. He stated his desire to see the sport develop in strength and in number and promised their continual support for the development of the game in Ghana. He stated that "Chess is a great game for training the intellects and students who play the game have posted better academic results".
The President of the Ghana Chess Association thanked Reiss & Co and the Kasparov Chess Foundation Africa for their support and made a plea to the corporate institutions to lend a hand in developing the game of chess in Ghana.