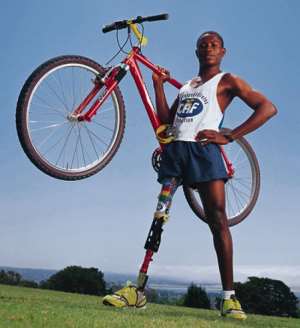 Emmanuel Ofosu Yeboah, the internationally recognized and award winning para cyclist has decided to embark on a peace tour of Ghana to create awareness for a peaceful general election.
The man who was born and bred in Koforidua in the Eastern Region of Ghana, but now based in the United States of America (USA) and now plays Amputee Football for the USA team, aside riding the bicycle told the media at a crowded press conference that Ghana needs peace and not war, as the nation decides through elections on December 7, 2016.
The Ambassador for the Challenged Athletes Foundation (CAF) noted that Ghanaians have only one nation called Ghana, and they have nowhere to go when war erupts, especially the disabled, children, women, girls and the aged.
Emmanuel Ofosu Yeboah who was born disabled with one deformed leg, but struggled to earn fame internationally through perseverance and hard work said the tour dubbed "Riding For Peace 2016" will start in Accra, the capital of Ghana on November 7, 2016, together with ten other para cyclists to Cape Coast, then to Takoradi, the north, Ashanti, Volta and end at his hometown, Koforidua where he will cast his vote.
The man who has ambition to become a Member of Parliament in future hinted that they will ride to promote peace through 240 districts in one month and appealed for support from companies, organisations and individuals who want Ghana to have peace.
Yeboah was awarded the CAF Most Inspirational Athlete of the Year Award and also received Nike's Casey Martin award.
Goil Ghana Ltd, Tender TV, Serve Solution, Crystal Galaxy, The Great Nana Agradaa were some of the sponsors and supporters of the event who graced the conference.
Charles Osei Asibey, media relations director of the peace tour told yours truly it is time corporate Ghana supports such a worthy adventure as the disabled have been deprived of many facilities and privileges, yet some of the like Emmanuel Ofosu Yeboah want to contribute to maintaining peace and unity in Ghana.