Para Athletes To Compete At 2016 Millennium Marathon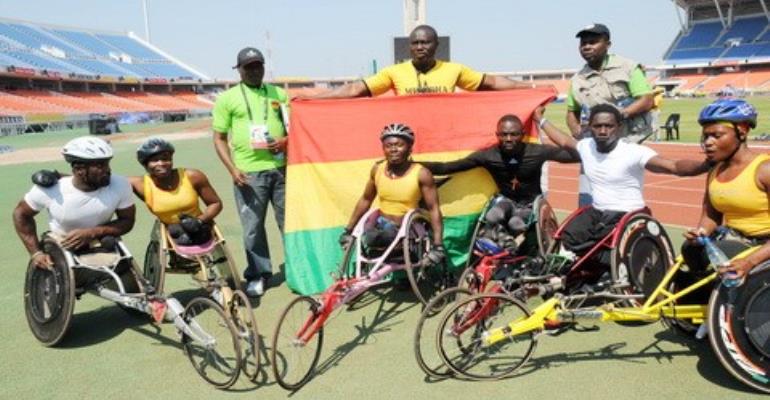 Disabled athletes also known as Para athletes would be given the opportunity to race alongside abled runners in this year's Millennium Marathon scheduled for Accra on September 3, 2016.
At a Press Briefing held at the Accra Sorts Stadium Media Center, Mrs. Catharine Morton, a director of the Millennium Marathon Sports Company said every Ghanaian should be offered the opportunity to exhibit his or her talent and skill, and their outfit wants to make the disabled part of the main event.
She noted that some disabled athletes took part in the Ashanti Regional Race in Kumasi, but they were not permitted to in the Accra race due to circumstances.
However, this time round, the chance has been given to all runners, nd the wheel chaired athletes will take off some few minutes before the main race at the Independence Square.
Hon. Vincent O. Asamoah, Deputy Ministerr of Youth and Sports who graced the meeting said it is important that all Ghanaians are given equal opportunities and since the disabled suffer more, they should be given much preference.
"It is about time we rescue the perishing, and we have to praise them when it is due. The disabled are part of the populace and we must be fair to them" he said.
According to Hon. Asamoah, the disabled athletes did very well at the last All African Games, but they were not celebrated.
He called on the media not to discriminate, but support the disabled and grant them the needed publicity to motivate them, so that they can improve upon their performances.
Mr. Charles Wordey, Head of Corporate Affairs at National Investment Bank (NIB) praised the Millennium Marathon Sports Company for their initiative and urged Ghanaians to participate in the Marathon on September 3 to promote healthy living. He was happy for the inclusion of disabled runners who will compete on wheel chairs and urged the sports authorities to give them attention.
MacClean Dzidzornu, a national Para athlete who was disappointed for not going to the qualifying event for the Rio 2016 Olympic Games said he will take compensation in the Millennium Marathon and prove to Ghanaians the quality some of them have.
The member of GOGETDEM Para Athletic Club said over ten wheel chaired performers from the regions will thrill spectators on September 3 and he expressed gratitude to the organisers of the marathon.
Present were Mr. Joe Kpenge, Director General of the National Sports Authority and Wilson Agbesi of the National Paralympic Association, who was optimistic that the wheel chair athletes will steal the show.
The 2016 Millennium Marathon is partnered by the Ghana Red Cross and sponsored by Peugeot, NIB, Total Ghana, The Royal Bank, H2O Mineral Water, Ethiopia Airlines, Melcom, Puma, Interplast, Aryton Drugs, Papaye, Muvinpic Hotel, British Airways, Africa World Airlines, Graphic Communications, Goil Ghana Ltd and other companies.