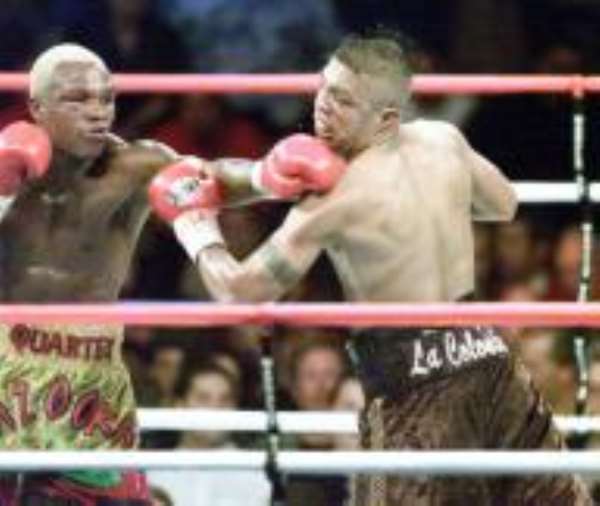 Former WBA welterweight champion,Ike'Bazooka'Quartey, might not have fought in more than three years,but a conscious attempt to stage a remarkable comeback has placed the Ghanaian in firm shape.
On Friday when he mounts the ring against American Clint Scott McNeil,Quartey will draw on a new mentality that has given him a physical appearance different from what he paraded in his days of 'retirement'.
After three solid months of pure gym work administered by trainer Oko Odamtten, the Bazooka has shed enormous weight while his fatty portions have transformed into pure muscles.His body looking ready for a boxing fight, he has reinstated the sharp reflexes that dominated the likes of Chrisanto Espana, Ralph 'Tiger' Jones, Oba Carr and Vince Philips.
By a record of even these fights, Quartey remains too strong an opponent for the American who lost by a unanimous decision to Hector Camacho in his last fight. Quartey, 31-2-1 (29 KOs), enters the fight as his first in the middleweight division, where his contemporaries, Oscar de la Hoya and Felix Trinidad, have tried their luck in similar comebacks.
That notwithstanding, McNeil's 18-9 record would evoke little fear in even a novice.But the American could lose the fight even before he enters the ring.Expected to arrive in Accra last night, McNeil would meet a dry harmattan weather totally different from the winter conditions prevaing in his native country now.
If he is unable to acclimatise within three days,he could be drained early in the fight before taking a shower.And that would offer Quartey a sound footing for bigger challenges in his comeback,which will be the highlight of a bill that features other Ghanaian fighters. Ike Ready For Opponent Ike'Bazooka' Quartey says his fans and the boxing world will see a new man,but though will be lost on his grit and skills when he mounts the ring for his comeback on Friday.
Having been out of the ring for more than three years, Quartey has spent time trimming his size and weight, and now represents the figure of a true boxer who is eager to relaunch his career, using American Clint McNeil as the stepping stone.
In the fight, he takes along a reinvigorated hand speed that matches perfect and hard fists.McNeil was expected in Accra last night just as expectations about his ability to stand Ike 'Bazooka' Quartey in Friday's middleweight fight remained high.
The American comes to Ghana with so much to gain from a fight that offers the former WBA welterweight champion a comeback.And when he mounts the ring at the Azumah Nelson Sports Complex,he will seek a surge in image, ala Danny Williams' style,in a risky challenge of the fists that harmed Oscar de la Hoya.
McNeil's 18-9 record appears unimpressive among the hard punchers of the middleweights but he carries into Ghana, and into Friday's fight, the courage that sustained him in 10 rounds in last July's unanimous point decision loss to Hector Camacho.
Whatever happens, the fight, being organised under the auspices of Ike's promotion syndicate,Jumus, will introduce the new 'Bazooka'.