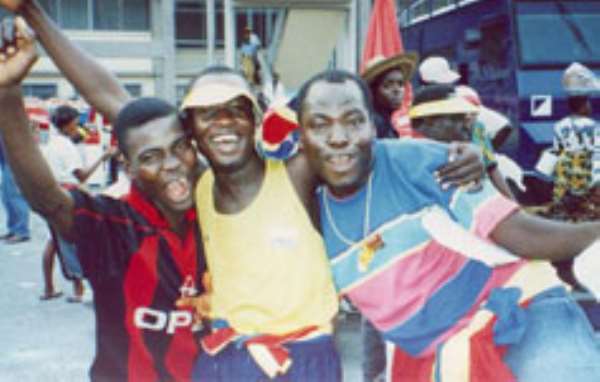 As observers keep waiting for the Kumasi cracker between Asante Kotoko and Hearts of Oak for the Confederation trophy, I believe the ethics of the game is written bold in the sight of fans that would be in Kumasi to witness this historic moment. All we are hoping for is a peaceful match. It is better to play the game peacefully than not to play at all.
We wished for a Kotoko-Hearts final and we have had it. There should therefore not be any difficulty in handling this honour. If Asante Kotoko wins, Ghana has won. If Hearts of Ok wins, Ghana has won. Any slip of discipline on the part of fans during the match is likely to spell doom to our soccer. The whole world is watching us. We have already passed the first test in Accra by exhibiting a top12 level discipline in the first leg.
Already global soccer has started crying for help with the recent incidence of verbal assault on specific players by virtue of their colour. I don't want to mention the word racism to invite any trouble. However, this worst form of segregation is making things horrible in soccer. Lucky fans that would be at the Kumasi sports stadium are therefore advised to have sympathy for soccer and not to cause any trouble to deepen the woes of the game.
Hearts of Oak are aware that a home ban was the main explanation to their inability to stage a successful defence of the champions' league in 2001. Observers would agree with me that a similar ban contributed to the early exit of Asante Kotoko by FC 105 of Gabon in the Africa clubs championship cup in 1988. In 1994, Ghanaian clubs were banned from continental competitions following events that occurred during the Kotoko-ASEC Mimosa cracker in Kumasi in 1993. Nobody is hoping for any ban. Hopefully the match would be played in a peaceful atmostphere.
We are all is sitting on thorns and until the final whistle on Sunday one can hardly say the trophy is for Kotoko or Hearts. At the moment, everything points to a Kotoko victory but one would make the biggest of mistakes in soccer to write off Phobia who even as underdogs can turn things round in games like this where their pride is at stake. Since 1999, Hearts have never won against Kotoko in Kumasi. It is a crucial moment for fans. Whether we like it or not, one side is going to win. All we have to do is keep our fingres cross and wait for the final whistle on Sunday.
All the best, Kotoko. All the best Hearts. Views expressed by the author(s) do not necessarily reflect those of GhanaHomePage.