British High Commissioner Jon Benjamin takes a swipe at Sports Journalist; challenges them to boldly publish names of corrupt sports personalities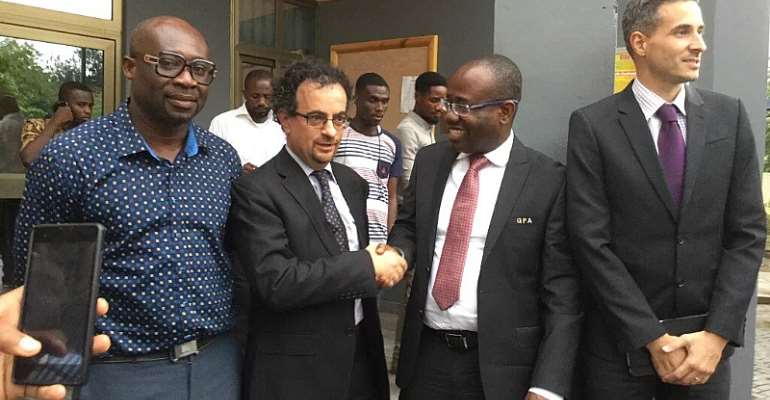 Outspoken British High Commissioner Jon Benjamin has taken a serious swipe at sports journalists in Ghana, challenging them to be bold and publish names of corrupt sports administrators instead of making unsubstantiated noise.
According to Jon Benjamin, he's had several reports from close journalists who claim there are many corrupt administrators.
He is therefore challenging them to stop talking and act by publishing the names of the said corrupt officers if indeed their private claims are true.
Speaking at the 41st SWAG Awards Night, Jon Benjamin said 'Now, here's the thing: I have heard from some Ghanaian sportswriters privately and directly about this or that alleged transgression, some of them very serious ones, like: match-fixing; the suborning of referees; players or their families paying coaches to be selected; deliberate age and even name falsification, in order to increase the chances of a player being signed overseas, and more.'
'But I almost never see any of that subsequently reported publicly by the same people who seem to have this knowledge privately.'
He continued: 'I am, however, saying that several Ghanaian sportswriters have unambiguously claimed to me that these things sometimes do happen, not just historically but in the here and now.
'But if you have that information - and I stress if - why talk about it privately to foreigners like me, but never publicly to Ghanaians, your audience?
'Why? Is it fear? Is it a lack of support from media employers?
'Is it, as I have heard alleged much more than once, because there are lists of quote unquote 'tame' journalists who pretend to be independent but are in fact in the pay of football authorities whose direct bidding they do, instead of reporting on them objectively?
By: Sheikh Tophic Sienu @desheikh1 on twitter