Hearts coach satisfied with condition of players after camp break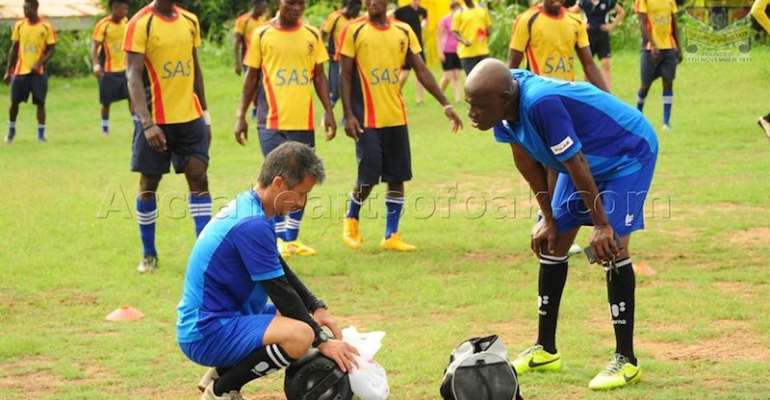 Hearts of Oak head coach Kenichi Yatsuhashi has revealed the latest situation in camp after the team resumed training on Monday.
The players were handed a week's break after the final match of the first round against Dreams FC and they returned to training on Monday, led by Coach Kenichi Yatsuhashi and his backroom staff.
Speaking with facebook.com/accraheartsofoak on Wednesday, Kenichi brought the fans to date with what the team has been up to since their return to training.
"Today was a fitness test and some people did well; others did not. On Thursday, we are starting with real training and so we are starting,' he said.
Most of the players who got injured in the first round have all returned to full training, with the exception of Isaac Oduro who's a few weeks away.
And coach insists the returning players will have to be fully fit before they are risked in games.
"They are still in the process of recovering and regaining their match fitness,' Kenichi said.
"But they are very close. I cannot say they have regained fully their match fitness; of course, they have not but we still have about a week or so to go and hopefully they will regain their full match fitness.
"If we are here for fun or playing area football; they can play. But we are here to win so if the players are not regaining match fitness, we will risk ourselves to losing a game and we risk the players to get re-injured so it is extremely important [to wait for the players to fully recover and regain match fitness before they can play]."
The Hearts head coach also revealed the team will be concentrating more on internal training before considering whether to play friendly matches during the short break of the first round.
"We are very close but we are not there yet,' he said of his team's shape during the break.
"No, we are only training; we have not earmarked friendly matches yet. I do not have a calendar [for friendly matches] yet; but it is likely to be two games a week. But for now, we do not need a friendly match, I think we need the training now."