Hearts of Oak resume training on Monday after one-week break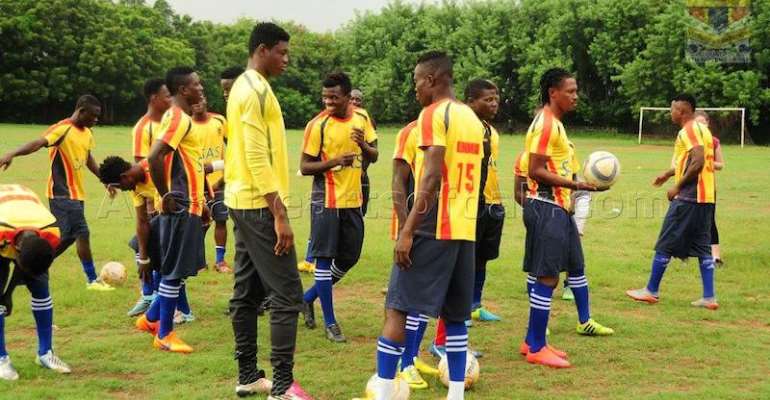 Hearts of Oak returned to training after a one-week break to begin preparation for the start of the second round of the 2016 Ghana Premier League season.
Team Hearts were given a week's break after the 1-1 draw with Dreams FC on 29th May, 2016.
And having fully refreshed, recuperated and re-energized, the playing body were at training at the University of Ghana, Legon Ajax Park, this Monday, 6th June, 2016 to begin earnest training ahead of the league's resumption.
The players were there in their numbers, with the good news being the presence of most of the injured players, and the arrival of three new signings.
The two-hour intensed training session begun with a check-your-body-weight session, with all the players standing under a scale to measure their body weights.
Goalkeeper Evans Gbeti was tasked with the recordings of the weights whilst head coach Kenichi compared the marks with his old recordings.
The players regrouped in the center circle for a short prayer before they were divided into two team's fora very friendly match.
New striker Patrick Razak stood out with his impressive display, troubling his captain Robin Gnange on a number of occasions as the few fans who made it there enjoyed the friendly duel.
Head Coach Kenichi was also in high-spirits for the morning training as he mingled with the players and cracked jokes to ease pressure for the new boys.
Recovering-quartet Samudeen Ibrahim, Thomas Abbey, Owusu Bempah, Richard Yamoa, and Musah Inusah were all at training.
It was a lovely day on the team's return to training, but preparations will step up during the week.
The team will reconverge at the venue same time tomorrow for another grueling training session.