Who Wins GNPC Ghana's Fastest Human 2016?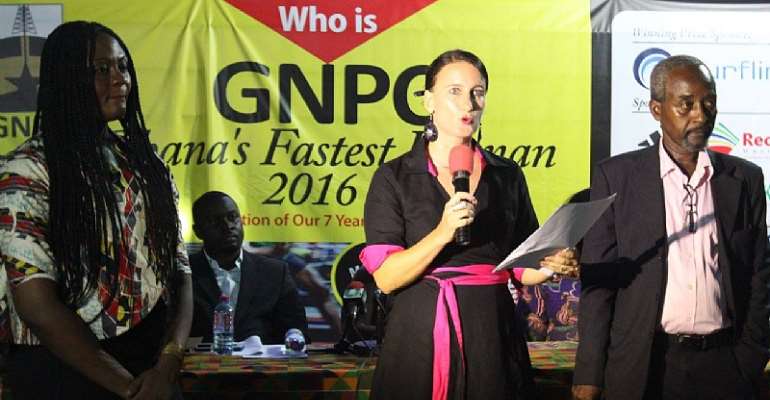 After successfully completing three of the seven year, 100 meters project, 2013 to 2020, the Organizers have found a huge need to establish a local 'Speedsters Athletic Club', which will later on metamorphosis into a Sprinters Academy.
As the ULTIMATE PRIZE this year, the Headline and Clothing Sponsor for Ghana's Fastest Human 2016, Ghana National Petroleum Company, GNPC, will sponsor 4 athletes for a year, starting from the GNPC Ghana's Fastest Human Final of Finals on September 10th 2016 at Kumasi, to September 2017!! The plan for this "Speedsters Club" is to become the elite Club that EVERY potential sprinter in Ghana will aim to be a part of.
The GNPC Speedsters Club will implement 3 areas that has been found out to transform an athlete from being a local athlete to a world – class one; (1) access to a great nutritional program, (2) access to new and improved training methods and (3) access to a sports psychology program. They will also select the BEST 4 Sprints coaches in Ghana for this one – year exercise. The plan is to experiment locally and find a local solution to always going abroad. This template can be expounded on as the years go by. Jamaica has found THEIR way and now every potential sprinter in the World wants to go there. This is the same thing being emulated but using Ghanaian foods and expertise.
In addition to the Sprints Coaches, 3 Specialized Professionals will be added to help the athletes reach their potential by improving their mind and body, they are Dr. Matilda Laar, a Certified Dietician, Dr. Rachel Pugh, a Clinical Psychologist and Andrew Marriot K. Kuadey, aMuscle Therapist/Trigger Point Muscle Therapist dealing with acute and chronic pain. All 3 are based locally and have come up with a strategic local program and nutritional diet plan for the 4 chosen athletes. This will go on for the entire year and they will work hand in hand with the 4 sprint coaches to ensure that the BEST comes out of the chosen 4. For more on them, please visit www.mindbodypracticeghana.com
As part of the Ultimate Prize, Adidas Ghana will kit the 4 chosen athletes for the entire year with training and leisure wear as part of the Ultimate Prize. For more on Adidas Ghana please visit www.nutmegltd.com
GNPC Ghana's Fastest Human is brought to you by GNPC, Surfline, Adidas Ghana, Red Sea Maritime, Pippas Gym, Moringa King, Indomie, Afam Beauty Products, EIB Network, UTV, GTV Sports + and Wrenco Printing.
Sammy Heywood Okine
Sports Journalist