Nissan Sign Record Holder Seedorf For Uefa Champions League Final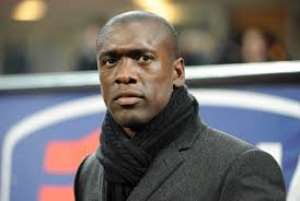 Clarence Seedorf
Rosslyn, South Africa (May 24, 2016) – African football fans of the UEFA Champions League, gearing up for the tournament final, will be thrilled with the latest addition to the main vehicle sponsor's ambassador fold.
Nissan, the Official Global Automotive Sponsor of the UEFA Champions League, will be joined by UEFA Champions League record-holder, Clarence Seedorf.
Seedorf is the last in a string of UEFA Champions League Nissan ambassadors, who include Ivorian Manchester City player Yaya Touré. Touré has won African Footballer of the Year three times and is a former UEFA Champions League winner.
As the only player to have won the UEFA Champions League with three different clubs, Seedorf shared his thoughts on joining Nissan's activities ahead of this year's Final in Milan:
"I'm pleased to join Nissan in celebrating their sponsorship of the UEFA Champions League, and what should be an exciting Final in Milan. One thing I know is that humans like excitement, adventure, adrenaline and speed - and football is all of that! Nissan has embraced the UEFA Champions League, as I did during my career, representing the values of innovation, technology and quality."
Seedorf heaps praise on the Finalists and their corresponding managers, ahead of the UEFA Champions League Final:
"It's great to see a new-era for Atlético Madrid, they've given full support to their coach and Simeone has shown that he was probably underestimated as a player, tactically. And although it's early days for Zidane, having come in as manager half way through the season, there's clearly been an improvement, so he's obviously doing the right things for the team and is getting the correct support to take the team where they are."
Having played and coached in Milan for many years, Seedorf has fond memories of the capital and offers his advice to the players ahead of the hotly anticipated tie:
"At the end only two teams make the Final, and even if it's two Spanish clubs it's a very international match as on the pitch they are very diverse, with players from all over the world. I think it will be a very exciting match, ultimately the two teams who make it to the Final deserve to be there, and I'm looking forward to it.
"My advice to players is to enjoy every single moment of this game, and in general of the whole tournament journey, because it doesn't happen often to experience such a great moment and atmosphere."
Jean-Pierre Diernaz Vice President, Marketing – Nissan Europe said:
"The UEFA Champions League Final in Milan will mark the climax of a really exciting second season as Official Global Automotive Sponsor of the UEFA Champions League. Clarence personifies what it means to be an 'engineer of excitement' and a true innovator of the game."
Nissan South Africa managing director Mike Whitfield agreed: "Though some distance from the soccer action, Africa's UEFA Champions League following is no less passionate. As a soccer-loving continent, united in an appreciation of innovative and exciting talent, we are delighted at the calibre of ambassadors – including our home-grown Yaya - who have been part of this year's sponsorship. We will be following game developments closely as the competition enters its exciting finale."
Nissan plan to bring even more excitement to this year's UEFA Champions League Final, and to fans both in Milan and at home, through a variety of innovative and exciting activities. Nissan are creating an exciting experience for football fans to experience the thrill of driving the new 2017 Nissan GT-R through the streets of Milan, culminating at the iconic San Siro stadium, via a virtual reality experience in partnership with another official sponsor, Sony PlayStation. Follow the excitement in Milan via #GetMilanExcited.