Ambitious Ghanaian kid Kofi attracts recognition from Man City goalie Joe Hart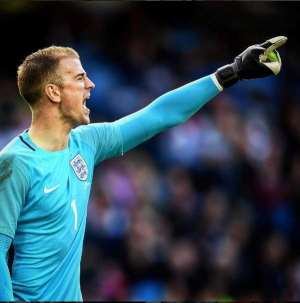 Ambitious twelve-year old pupil of Osu Presby Primary School, Abdul Basiru has received a life time recognition from England and Manchester City shot stopper Joe Hart following the boy's disclosure that the Three Lions goalie is his idol.
In a short video interview, Basiru popularly known as Kofi chose Joe Hart as his role model as he aims at becoming a great goalie.
Luckily for Kofi, the person who recorded the video is a friend to the Manchester City safest pair of hands and showed the video to the him.
Joe Hart after listening to the boy wished him well and urged him to strive hard to realise his dream.
"I want to be a goalkeeper like Joe Hart," Kofi said in the video.
Responding to the video, Joe Hart said "Hi Kofi. I am Joe Hart. It's good looking after your mum. I will be looking up to you and hopefully you will be a great goalkeeper one day."
Below is the video of both Kofi and Joe Hart.
Ghanaian kid Kofi attracts endorsement from Man City goalie @JoeHartUpdate @Blackhino @warisgh10 @ASAMOAH_GYAN3 pic.twitter.com/gyZJnf7lNf
— Sheikh Tophic Sienu (@DeSheikh1) May 23, 2016
Kofi is set to be spurred on by Joe Hart's words to aspire to reach his dream.
By: Sheikh Tophic Sienu @desheikh1 on twitter