Indomie Youth and Junior inter-club weightlifting competition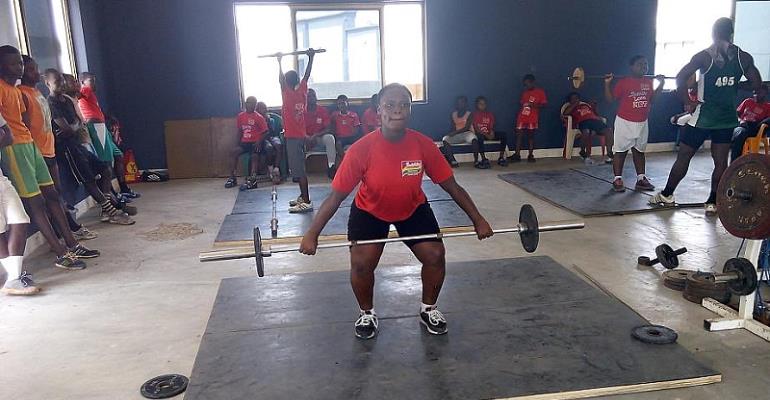 The maiden edition of the Indomie Youth and Junior inter-club weightlifting competition is scheduled to come off on Saturday, April 16, 2016 at the National Weightlifting Training Center located at the Accra Sports Stadium.
This competition is aimed at bringing together the various youth and juniorlifters with the various weightlifting clubs in the country to compete for laurels.
The competition will be preceded by a float through some selected streets in Accra on Friday, April 15, 2016.
According to Kenneth O. Adade, National Coordinator GWF Youth and Junior Development Programme,the Ghana Weightlifting Federation (GWF) as part of their developmentprogramme began training youth and junior wannabe lifters between the ages of eight and 17 years at the National Weightlifting Training Centre.
The programme was officially launched in January this year with DeUnited Foods who are importers if Indomie as headline sponsors.
About 40 youth and junior weightlifters from four clubs have been selected to participate in the competition which will also serve as grounds for talent identification for the technical committee of the GWF.
Title sponsor of the competition, Indomie has agreed to partner the GWF for the youth and development programme with an annual sponsorship of GH₵20,000 and GH₵10,000 worth of products.
Winners will be decorated with medals and awarded with products from Indomie.
Below is the list of clubs and weightlifters expected to participate in the April 16 competition;
A1 Weightlifting Club has DrAkwesiAdomako as chairman with Ashim Morton and Husseini Addy as members while Andy ObengKweku and Benedict Owusu are PROs of the club. Athletes of the club are; Jeremiah Benye, Emmanuel Boateng, Daniel Nortey, Jacob Lamptey, SulemanLaryea, Malik Tagoe, Benjamin Tagoe, Blessing Tetteh, Dorcas Afful, Sandra AmonooCrabb, Francis Martey and Prince Nyarko with Abubakar Taylor as coach.
The Accra Titans Weightlifting Club can boast of Ben Nunoo Mensah as chairman with Clifford Mettle as Kenneth OdengAdade while Alex Anyankwah and Moses AntwiBenefo as the club PROs. Weightlifters of the club are; Christian Amoah, Abraham Adjei, Yusuf PaaTomy, Richard Nortey, Jonathan Lamptey, Faustina Allotey, Evans Laryea, Dorinda Obeng, Asiatu Addy, Faisal Martey, Emmanuel Allotey and TheophilusTackie with NiiTackie as coach.
Another club with the aim of sweeping most medals on the day is the Purejoy Weightlifting club which has Isaac Tetteh as the chairman with Charles OseiAssibey and Edith Owusu Agyapong as members whereas Prince Annan and Mavis Amanorare PROs of the club. Athletes affiliated with the club include; Richmond Osarfo, Thomas Amoah, Richard Aryee, Richard Obeng, Isaac Okine, Judith Acheampong, GodfredAdjetey, Rudolph Seikon, Rebecca Adjei, Genevieve Quaye, Leonard Tetteh, NiiDarkuDodoo and Dora AfiAbotsi. NiiDodoo is the head coach of the club.
The Migrants Weightlifting Club has Samuel Ayer as Chairman with OtinkoranAnkrah and AddoAllotey as members while Chris Nunoo and Romeo Oduro as PROs. Weightlifters of the club are; David Adjei, Thomas Barnor, Stephen Coffie, George Morton, Daniel Ashitey, Sandra Agban, Emefa Bridget, AnetuDedeiAryee, Gerald Mettle, Daniel Hammond, NiiOtooLarkyne, Ruth Baffoe and NiiOtooLarkyne. OtinkorangAnkrah is the head coach of the club.
The media is cordially invited to join us on April 15 and 16 for the float and competition respectively.
From Sammy Heywod Okine