Ghana's Olympic boxing dreams on the verge of collapse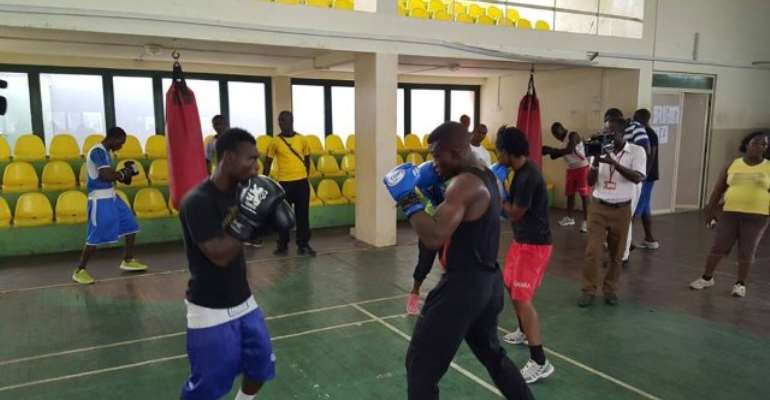 Ghana's dreams of making it to the boxing event of the Rio Olympic Games is on the verge of collapse, as the national boxing team (The Black Bombers), are unable to start residential camping, due to the inability to meet financial demands of the National Sports Authority (NSA). The Black Bomers are scheduled to participate in a qualifier in Cameroun next month and will present 12 boxers for the event.
The Black Bombers are unable to secure camping space at the Theodosiah Okoh National Hockey Pitch – the reason being that the Ghana Amateur Boxing Federation is unable to raise an initial amount of 1000 GHC ($257) requested from the National Sports Authority (NSA), who manage the facility. The NSA is in charge of all sporting associations and also manages all sporting stadia in the country. The team is currently managing with non-residential camping at the D.G. Hathiramani Hall of the Accra Stadium which is also used by the Table Tennis, Karate and badminton Associations.
The following are quotes from the non-residential camp after a visit by Joy Sports.
Ramatu Quaye – flyweight boxer
"Every day I have to jog to the stadium because I don't have any money to come to training with. Why is the government treating us like that? They are treating some well and are not minding us. This is not fair.
"At this stage our Federation doesn't have an option but to go and borrow money from another country so we can participate in the qualifier. Training is going very well and we are also responding. Apart from the financial troubles our training is going smooth. This is what I set out to do so once I enter the gym I put all those troubles behind me and focus heavily on training."
Ebenezer Quaye – Assistant Coach
"This situation has really affected the team negatively. Sometimes when the boxers get here the looks on their faces tell it all. It even becomes difficult to issue instructions effectively because the verve to carry them out is killed by their frustration."
"We have been training for a month and half now and are yet to get any money. I pay for my own fuel for my car and sometimes we have to use our own money to pay for their transportation to go back home. The frustrations we go through are bad. This is truly a painful experience because there's no allowance paid to anybody for all this hard work. I feel so sorry for these boxers who sometimes have to leave training on an empty stomach. At least something has to be done for them as they strive hard day in and day out. Boxing is my hobby and I feel I'm doing all this for my nation. But this is just not fair."
Sulemana Tetteh – light flyweight, Team Captain
"Four years ago we faced the same problem. The government knows that if we are supported to go for these games but nothing is done. I don't understand why the government does this to us. By the grace of God I'm and officer of the Ghana Prisons Service so I receive a monthly salary. So I am able to buy medication and take care of other needs but the story is completely different with my team mates."
"After training everyday they have to struggle and work to get money to take care of basic needs. These are very difficult times. I always feel tempted to turn professional and escape all these troubles because at least I will have a manager who will take care of me. But going to the Olympic Games gives a plus to ones amateur career ahead of entering the professional ranks, the reason why we always want to give our all and make it to the Olympics."
National Sports Authority's Reaction
Meanwhile the National Sports Authority has been reacting to the situation saying they are financially handicapped as well. In an interview with Joy Sports Fredericka Mensah-Davies, PRO for the National Sports Authority confirmed they had requested an amount of 1000 GHC from the Ghana Amateur Boxing Federation but explained it was to cater for fuel for the generating plant and toiletries at the facility since it has been without electricity for some time now.
"Our primary focus is to promote and develop sport in Ghana but we have had major financial challenges n recent times. We took over the management of the Hockey Stadium from the Ghana Hockey Federation not too long ago and realised there were accrued electricity bills. So there is no electricity at the facility and we cannot allow the boxers to go and live in the dark.
We have planned a meeting with our revenue task force to see how we can address this situation and move forward."
"This is also a good time to turn to the Ghana Olympic Committee because I guess they would have received funds from the IOC for preparation of the various sporting disciplines," she said.
Follow Joy Sports on Twitter: @JoySportsGH. Our hashtag is #JoySports
Story by Ghana/Joy Sports/Nathaniel Attoh