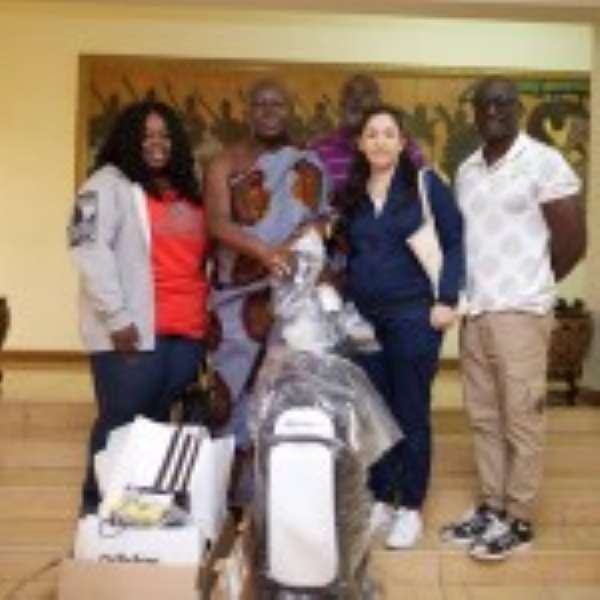 Otumfuo (2nd L) Valerie, Brobby and other officials in a pose with the golf equipment     
His Majesty; Asantehene of the Empire of Ashanti, Otumfuo Nana Osei Tutu II is one ardent golfer who has contributed to the rise of the sport in Ghana.
The flair he brings to the game of golf is made of pure gold and his passion for the premium sport is unquenchable.
In recognition of his contribution to the sport, adidas , the leading global sports brand and its Ghanaian retail partner, Nutmeg Limited, gifted the King of Ashanti the latest TaylorMade-Adidas golf kit- world's finest collection. Now, with TaylorMade-Adidas performance equipment in his caddy, His Majesty is set to take golfing to the next level in Ghana.
Speaking to the media following adidas visit to the royal palace in Kumasi, adidas Ghana CEO, Valerie Fontanier-Ghajar said gifting the world's best golf kit to one of Ghana's most recognizable figures of the sport is a rallying call to Ghanaians to take a plunge at golfing,
"Golfing is an exciting sport and the science behind every perfect swing leaves golf enthusiasts awestricken. adidas, as a leading global sport brand has been engineering premium golf kit and accessories for decades, giving pro golfers the edge in their games," CEO, adidas Ghana added.
Also gifted with a TaylorMade-Adidas golf kit was the president of Kumasi Royal Golf Club, Frankie Osei Asibey, on his last tee in the greens. The experienced and passionate golfer voiced his appreciation to Adidas before members of the club during a brief presentation ceremony and reception.
In his words: "It is a pleasant surprise to have one of the world's leading maker of golfing gears giving you a caddy of latest kit just for your indulgence."
Take your golf to the next level, order the latest adidas golf kit and accessories now via www.adidas.com.